Iran deal sends ripples through oil market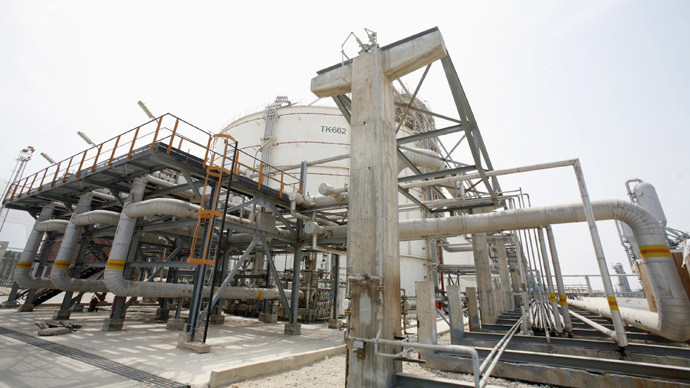 Oil prices dipped 4 percent on the news oil from Iran, with some of biggest reserves in the world, could flood the already glutted market. As the oil cannot enter the market until sanctions are lifted in June, prices soon rebounded to pre-talk levels.
Oil prices slid 4 percent after the Iran nuclear deal was signed Thursday, with European benchmark Brent dipping below $55 on the news of the agreement made in Lausanne, Switzerland.
READ MORE: Tehran and world powers reach solutions on Iran nuclear program
Brent recovered by Thursday, trading at $54.95 at the time of publication. Other factors weighing down the benchmark are increased commercial stocks in US crude of 4.8 million barrels, reported Wednesday by the Energy Information Administration (EIA). The Yemen conflict and Saudi Arabian involvement is pushing prices higher, as Yemen is a key conduit for millions of barrels of oil, and Saudi Arabia is the world's biggest producer.
Sanctions on Iranian oil, as well as other products, will in theory be lifted on June 30, the final deadline for the negotiations.
Naeem Aslam, Chief Market Analyst at Ava Trade, says the deal could drag the oil price lower after Iran starts adding to the supply glut.
"However, given how the structure of the deal is, and Iran will not be able to enrich its uranium, this is good news for Russia and the relations between the two countries could become even sweeter. Russia has a lot to gain from this deal as Iran will need more uranium," he wrote to RT.
READ MORE:What you should know about Iran nuclear deal
Iran has between 20-30 million barrels of crude in storage that could potentially come to market in July 2015, adding to the current global supply glut.
"Investors had hoped that the restrictions with Iran would be removed in stages, which would hold back oil volumes that will be released on the energy market. However, this did not happen, and the first reaction was to sell Brent, but this wasn't long-lived, because everything was already priced in at the beginning of the week," Alena Afanaseva, senior analyst at GK Forex Club, said in an emailed note.
READ MORE:Iran deal threatens 'survival of Israel', increases risk of 'horrific war' – Netanyahu
Iran's reemergence onto the market poses a threat to oil prices. Long bogged down by sanctions, Iran hasn't been able to develop or export its oil and gas. Reserves are estimated to be some of the largest in the world, and if a comprehensive nuclear deal is signed, that could all change, further pushing down the price of oil.
So basically, if figures are accurate, #Iran has potential to be World's largest oil provider for next 100years. Deal.done. #IranDeal

— Leo (@LeoGizzi89) April 3, 2015
Iran's oil exports have dropped from 2.5 million barrels a day in 2011 to about one million barrels in 2014, according to the US Energy Information Administration (EIA). In March, Iran produced 2.85 million barrels of oil per day, according to data from Bloomberg. Tehran will also have to take time to rebuild its oil industry infrastructure.