Oil plummet: Crude dives below $45 for first time since 2009
Brent crude and WTI have continued their headlong plunge in early trading Tuesday, hitting record six-year lows.
Brent crude futures fell 2.64 percent to $46.12 in trading on London's ICE exchange, while WTI dropped by 2.41 percent, plunging below $45 to $44.96 (10:00 MSK). Brent and WTI prices are now at their lowest levels since spring 2009.
The ruble was quick to react to the news, losing more than 2 percent in early trading on the Moscow Exchange. The Russian currency was trading at 64.93 to the dollar and 76.94 to the euro at 11:00 am local time.
On Tuesday, UAE Oil Minister Suhail Mohammed Faraj Al Mazroui said OPEC was no longer able to "protect" oil prices.
"[OPEC] cannot continue protecting a certain price. That is not the only aim of OPEC," he said at a Gulf Intelligence energy event in Abu Dhabi.
"We are concerned about the balance of the market, but we cannot be the only party that is responsible to balance the market," Al Mazroui said.
#Oil extends selloff on UAE minister's comments. WTI below, Brent near $45/bbl. http://t.co/QRRzq3JfXGpic.twitter.com/HGWCQEGAuk

— Holger Zschaepitz (@Schuldensuehner) January 13, 2015
Mazouri said the UAE was not planning to alter its output, adding that all oil producers should demonstrate awareness of global economic development and regulate their production accordingly.
"The key factor of hydrocarbon overproduction has become the extraction of shale oil," he said. "And this should be corrected."
READ MORE: Oil needs to stay at $40 to curb US shale boom – Goldman Sachs
Iranian President Khassan Rouhani says he is sure other oil producers such as Saudi Arabia and Kuwait will suffer along with Iran should it be hit by the crisis.
"Those that have planned to decrease the prices against other countries, will regret this decision," Rouhani said in a speech broadcast on state television Tuesday.
"If Iran suffers from the drop in oil prices, know that other oil producing countries such as Saudi Arabia and Kuwait will suffer more than Iran," he added.
Arab bourses have reacted to the news and started to slide Tuesday. The Dubai Financial Market is down 2.1 percent, Qatar has slipped 1.9 percent and the Saudi Arabian Tadawul index has lost 1.6 percent.
On Monday, Goldman Sachs halved its 2015 oil forecast to about $40 a barrel for the next six months. The bank's analysts said the low oil price will likely persist to curb oversupply, mostly from US shale.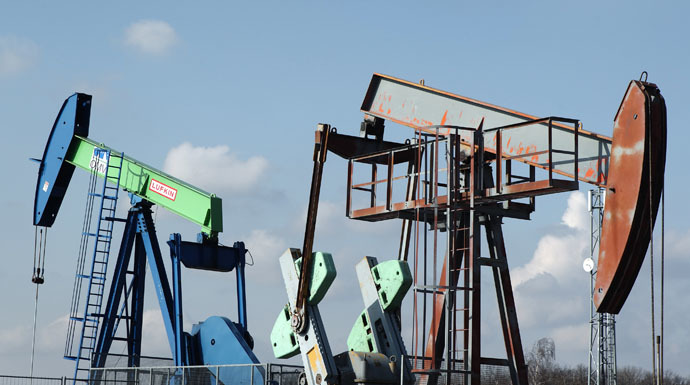 'Too big to fail' banks at stake
This week's earnings reports have shown a number of US 'too big to fail' banks could take a hit as oil prices continue to plummet. They are deeply involved in the energy sector, not only underwriting oil firm debts, but also financing homes for workers.
Some of the major banks in the US energy sector include Citigroup, Morgan Stanley and Goldman Sachs. Citigroup's oil and gas investments made up about 11.8 percent of the investment banking revenue, or $492 million. The share of Goldman Sachs was 7.1 percent, or $381 million.
The banks issued billions of dollars in loans when oil was at $80 a barrel. Now with the price below $50 bonds are likely to turn into risky assets.
However, the banks won't be put out of business, Lew Rockwell, chairman of the Ludwig von Mises Institute, told RT. The crisis will primarily hit banks in oil producing states such as Oklahoma, Texas, North and South Dakota, he said.
"The banks involved in the energy business, like everybody involved in the energy business, from a production standpoint to sales standpoint – they're going to see their profits cut," he said.
You can share this story on social media: