​Oil needs to stay at $40 to curb US shale boom – Goldman Sachs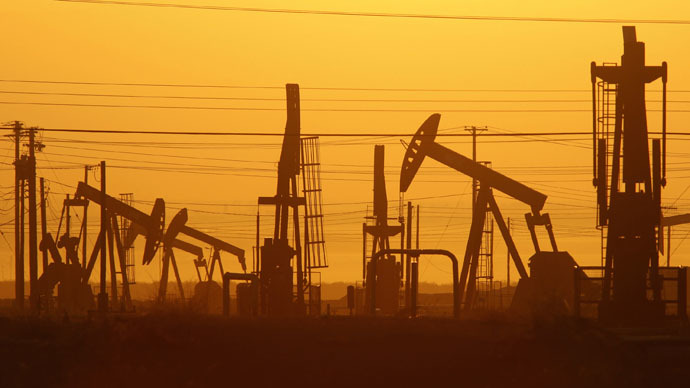 Oil prices hit new lows on Monday as Goldman Sachs halved its forecast for 2015 to $42 a barrel. The bank says low prices could curtail a number of shale projects, mostly in the US, cutting oversupply, and contributing to further price stabilization.
Goldman reduced its six month WTI predictions to $39 a barrel from $75, and for 12 months to $65 from $80 , while its estimate for Brent for the six month period were cut to $43 from $85, and for 12 months from $90 to $75, according to the report.
The bank suggests reserves will increase in the second half of the year, as the market can run a surplus longer than previously thought due to excess storage, said Goldman analysts to Bloomberg.
The bank believes oil at $40 should help cut excess supply, primarily in the US that has been pumping oil at a record pace, largely due to the Eagle Ford shale formation in Texas, and the Bakken field in North Dakota.
"To keep all capital sidelined and curtail investment in shale until the market has re-balanced, we believe prices need to stay lower for longer," Goldman said in a report. "The search for a new equilibrium in oil markets continues."
On Sunday, WBH Energy LP, a private Texas-based drilling group, became the first shale company to file for bankruptcy protection saying their bank was no longer willing to advance money. The company estimates its debt at between $10-50 million.
READ MORE: $200 bn in debt looms over American oil and gas
The global oil price decline continued after OPEC decided not to cut oil output in November believing the market will stabilize itself.
READ MORE: Oil slumps into tailspin as OPEC leaves output unchanged
On Sunday, Venezuela and Saudi Arabia agreed to intensify cooperation in restoring the global oil market, said Venezuelan Finance Minister Rodolfo Marco Torres following a meeting between Venezuelan President Nicolas Maduro and Saudi Arabia's Minister of Petroleum and Mineral Resources Ali Al-Naimi.
"An excellent meeting with important results. We agreed to work to restore the market and oil prices," Torres said on his Twitter account.
Excelente reunión con importantes resultados. Acordamos trabajar para recuperar mercado y precios del petróleo pic.twitter.com/fXjKBXGawW

— Rodolfo Marco Torres (@RMarcoTorres) January 11, 2015
Although the countries seem to have realized the importance of bringing together their efforts, Saudi billionaire businessman Prince Al-Waleed bin Talal believes no attempts will be made to bring the oil price back to $100.
"If some supply is taken off the market, and there's some growth in demand, prices may go up. But I'm sure we're never going to see $100 anymore. I said a year ago, the price of oil above $100 is artificial. It's not correct," he told USA Today.
Overall, oil prices have fallen more than 50 percent since July 2014.
You can share this story on social media: