Foreign investors to return to Russia, as economy 'entering new track' – Finance Ministry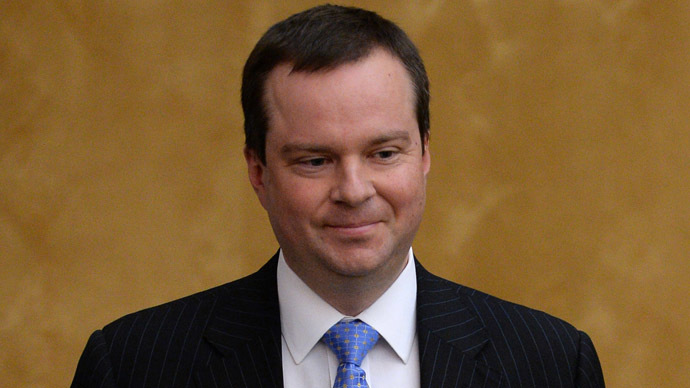 Overseas investors will start bringing their money back to Russia soon, after they realize the country's economy is "entering a new track," according to Russia's Deputy Finance Minister Aleksey Moiseev.
"I see that … the economy isn't en route to an abyss, but is very actively changing lane, much faster than all of us had expected just a couple of months ago and it is entering a new track", Moiseev said Thursday at a Moscow Exchange forum.
READ MORE: Russia's MICEX this year's best performing stock index
"The infrastructure of our financial market is now in the best shape among other BRICS countries," Moiseev told RBC. He added that currently about a quarter of the investors holding federal loan bonds (OFZ) are foreign.
"… they [foreign investors – Ed.] almost haven't left, now because the yields are growing and the inflation is sharply going down. Of course we expect their interest to resume," he said.
The ministry also expects that Russian economy will turn to growth in 2016. Most analysts expect the Russian economy to contract between 3 and 4 percent in 2015.
Sentiment towards the Russian economy has changed recently, as more economists across the world agree it's showing success. Most recently, a Bloomberg View contributor, Leonid Bershidsky, admitted that President Putin's economic team was doing miracles, as it managed to avert the panic that grasped markets last year when oil prices and the Russian ruble started to plunge.
READ MORE: Worst over for Russian economy, time to talk success - economists
The GDP data published Wednesday was better most expected as it showed the Russian economy expanded 0.4 percent between November and December last year. Most analysts expected it to be flat. Economy Minister Alexei Ulyukayev was also optimistic and expects an average 2.5 percent annual growth between 2016 and 2018. The Russian ruble is improving for a second consecutive session on Thursday, helped by higher oil and the dollar easing against other major currencies. The ruble added 1.3 percent against the US dollar to 56.5, following a 1.02 percent gain on Wednesday.
The World Bank, however, forecast Wednesday that Russia's GDP would contract by 3.8 percent in 2015 and fall by another 0.3 percent in 2016.
You can share this story on social media: