Russian PM seals gas discount for Ukraine of up to 28%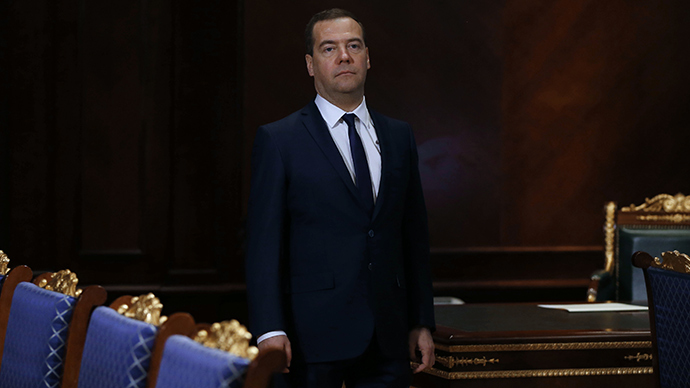 Russian Prime Minister Dmitry Medvedev has signed a decree to provide Ukraine with a discount equivalent to the export duty on gas supplied until the end of June. It will be not more than $100 per a thousand of cubic meters.
"The export duty is calculated by the following formula: at a price of $333.3 and higher per 1,000 cubic meters the gas discount will be $100, at a price lower than $333.3 the discount will be 30 percent of the price," according to the document published on the Russian government website on Wednesday.
READ MORE: Putin agrees to extend gas discount for Ukraine for next 3 months
Ukraine paid Russia $329 per 1,000 cubic meters in the first quarter of 2015. Under the 'winter package' agreed in October 2014 Ukraine pays in advance for the gas it's going to consume.
In the second quarter the contract price for Ukraine, including export duties, could be as high as $350-380 per 1,000 cubic meters, according to Russian Ministry of Energy estimates. Should the maximum discount be included the gas price will come down to $250-280 per 1,000 cubic meters.
Russian Energy Minister Aleksandr Novak said the 'take-or -pay' provision will be back to the 2009 gas agreement between Russia and Ukraine, after it was dropped in the 'winter package'. The 'take-or-pay' agreement requires payment for gas no matter if Ukraine needs it by a certain date or not.
READ MORE:Ukraine to resume importing Russian gas at $250 – energy minister
Kiev has not yet made an advance payment for April gas supplies, but plans are underway, Ukraine's Energy Minister Vladimir Demchishin said Wednesday.
Currently Ukraine owes an estimated at $2.477 billion for Russian gas already consumed and penalties.
Demchishin also said Kiev will restart importing Russian gas should the $250 per thousand cubic meters price tag be confirmed at trilateral talks in Berlin on April 13-14. He also said Ukraine is seeking a deal with Russia that would last till the end of the 2016 heating season.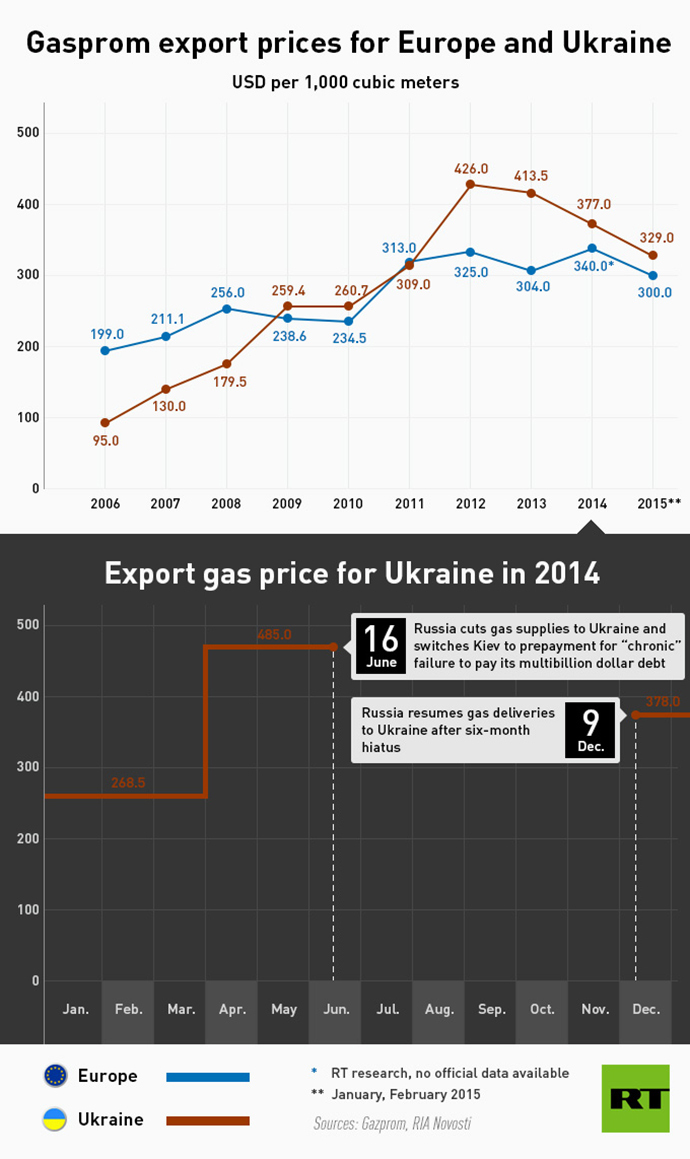 You can share this story on social media: