Ukraine's war-torn east home to third of country's GDP - minister
Published time: 31 Mar, 2015 16:18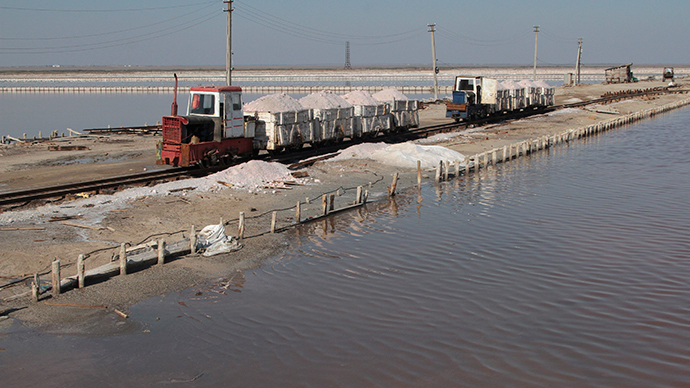 A third of Ukraine's gross domestic product lies in the Donetsk and Lugansk People's Republics, Ukrainian Interior Ministry Arsen Avakov said.
"It is difficult to speak about reforms when 30 percent of GDP has been left in the territories [of the self-proclaimed republics - Ed.]. It is difficult to speak about reforms when society is engulfed by military operations in the east," Avakov said at the Stress Test expert forum Tuesday, TASS reported.
Ukraine's eastern industrial base is a large chunk of the country's GDP, about 16 percent according to Investment Capital Ukraine. Lugansk and Donetsk regions account for 25 percent of industrial goods and services. Many of these industries, such as coal mining and energy, have been shut down due to the conflict.
The loss of key industries in the country's eastern province is worrying for Ukraine, a country already on the brink of financial disaster as the war drags into a second year.
Between lost industry and war expenses, the conflict between pro- and anti-government forces has already wiped out 25 percent of Ukraine's economy in the first 3 months of 2015. Finance Minister Natalia Yaresko has said 30 percent of next year's budget would be spent on defense and debt obligations.

READ MORE:Conflict in Ukraine wipes out 25% of country's economy
Ukraine's economy shrank 6.8 percent in 2014 and is expected to contract another 5.5 percent, according to the IMF's latest forecast. At the end of 2014, the country's GDP was 1.5667 trillion hryvnia, or about $121 billion. The Standard & Poor's ratings agency forecast Ukraine's GDP will shrink to $99 billion in 2015, and in a worst case scenario put forward by the Economist to $70 billion.
When calculating the country's GDP in 2014, Ukrainian officials excluded Crimea, that reunited Russia in 2014, or the Donbass conflict area.
READ MORE: The Cost of War: Ukraine's economy to pay heavy price for offensive in the east
During the coming year, Ukraine will receive an additional $10 billion from the International Monetary fund, part of a $17.5 billion recovery plan, and bringing total aid to around $40 billion. The first tranches of money will be used to prop up the country's beleaguered currency and foreign reserves. The Ukrainian hryvnia has lost 60 percent of its value in the last year and has dropped to 23.44 to the dollar, far weaker than the 21.75 per dollar limit envisioned by the IMF.
Foreign currency reserves stood at $5.6 billion at the end of March, compared to the $36 billion level in 2011. The lack of foreign currency reserves, among other factors, guided Moody's ratings agency to slash Ukraine's sovereign debt rating to one level above junk status.
Ukraine is asking foreign bondholders - from the Russian government to American hedge funds- to agree to a $15.3 billion debt restructuring plan, which in short, would mean debt forgiveness.