Austria wants to be part of China-led infrastructure bank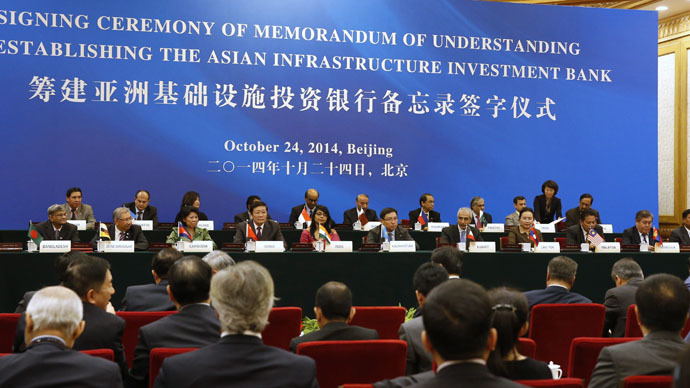 Austria is looking to join the China-led Asian Infrastructure Investment Bank (AIIB), Xinhua news agency reported, citing a top official. It is the latest European nation to invest in the bank, which is seen as the future rival of the US-based World Bank.
READ MORE: Australia ponders 'vote of confidence' on joining China-led bank, Japan on fence
"Austria has already had close economic and political ties with the Asian region and has always been so far very positive about international projects," Johannes Frischmann, a spokesman for Austrian Finance Minister Hans Joerg Schelling, told Xinhua, adding that the nation "now checks for the membership."
The AIIB has been approached by 27 prospective founding members, with the UK, France, Germany, Italy, Luxembourg, and Switzerland recently applying. The application deadline has been set for March 31.
Other nations will still be able to join the AIIB after the deadline expires, but only as common members, Chinese Finance Minister Lou Jiwei said last week.
China wants to see the AIIB operational before the end of 2015.
READ MORE: France, Germany, Italy to join China-led $50bn infrastructure bank
Washington recently shifted its tone towards the AIIB, which is seen as a rival of the US-led World Bank, the International Monetary Fund (IMF), and the Manila-based Asian Development Bank (ADB) which is dominated by Japan and the US. Previous reports implied that there was a negative reaction from Washington; however, it has now proposed to work in partnership with the AIIB, according to The Wall Street Journal.
US officials have been skeptical, expressing fears that it may undermine the World Bank and the IMF. However, the Chinese finance minister gave assurances that the AIIB will not compete with existing international organizations, but will instead reinforce them.
The International Monetary Fund, World Bank, and Asian Development Bank have also expressed their support for the China-led international bank.
IMF chief Christine Lagarde said on Sunday that the fund would be "delighted" to cooperate with the AIIB.
The China-led infrastructure bank is expected to launch with an initial subscribed capital of $50 billion and focus on financing infrastructure projects across Asia – including energy, transport and telecommunications infrastructure, urban and rural development, and the environment.
You can share this story on social media: