Europe to start €1.14trn 'easy money' program on March 9 - ECB President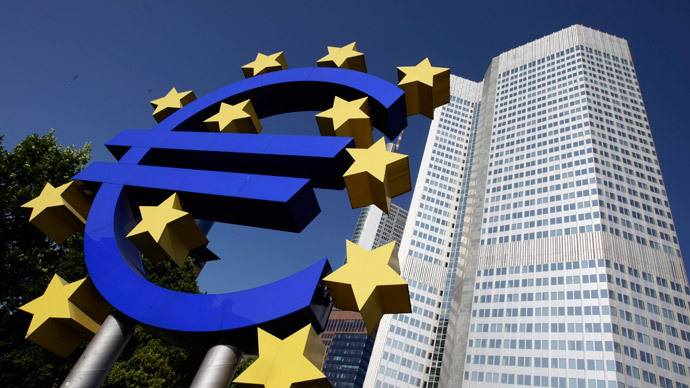 The European Central Bank will kick off its monthly €60 billion purchases of government bonds and private sector assets next Monday, said the head of the ECB Mario Draghi.
"Following up on our decisions of 22 January 2015, we will, on 9 March 2015, start purchasing euro-denominated public sector securities in the secondary market. We will also continue purchasing asset-backed securities and covered bonds, which we started last year," Draghi said in a press-release published Thursday after a news conference in Cyprus.
The programme will last till September 2016, Draghi confirmed. The €1.14 trillion package is hoped to avert deflation and save the eurozone from a triple-dip recession.
READ MORE:ECB announces milestone €1.14trn 'easy money' program
The ECB has also decided to keep its key refinancing rate at a record low of 0.05 percent.
ECB March staff projections: euro area annual real GDP +1.5 pct (+1.0 pct) in 2015, +1.9 pct (+1.5 pct) in 2016, +2.1 pct in 2017

— ECB (@ecb) March 5, 2015
The European Commission expects eurozone growth to reach 1.5 percent in 2015, exactly what it predicted in November. In two years time growth is expected to reach 2.1 percent, Draghi said. It's his first prediction for 2017.
The bank has lowered its forecast for eurozone inflation in 2015 to zero from 0.7 percent due to the drop in oil prices, said Mario Draghi. Oil prices have fallen by more than half since summer 2014 when Brent crude was trading at $115 a barrel. In February the price stabilized to around $60 a barrel. Brent was trading at $61.22 at 17:00 MSK on Thursday.
Inflation in the eurozone tumbled to negative 0.6 percent in January. In February the index slightly recovered to -0.3 but remained well below the inflation target of 2 percent.
The euro has fallen to an 11-year low of 1.1 against the US dollar following Draghi's statement.
#Euro falling as #Draghi speaks. True that some algorithm is working overtime. #ECBpic.twitter.com/F2AuB8ZJX9

— SrinivasRamakrishnan (@Neuschwan) March 5, 2015
Draghi stressed the efficiency of similar programs used in the past, but said monetary easing should necessarily be coupled with real economic reforms.
"…in order to increase investment, boost job creation and raise productivity, both the decisive implementation of product and labour market reforms and actions to improve the business environment for firms need to gain momentum in several countries. It is crucial that structural reforms be implemented swiftly, credibly and effectively, as this will not only increase the future sustainable growth of the euro area but also raise expectations of higher incomes and encourage firms to increase investment today, bringing forward the economic recovery," he said.
READ MORE: 5 simple facts about US 'easy money'
You can share this story on social media: