Russia doesn't want new gas dispute with Ukraine - Putin
Published time: 4 Mar, 2015 13:20
Edited time: 6 Mar, 2015 14:07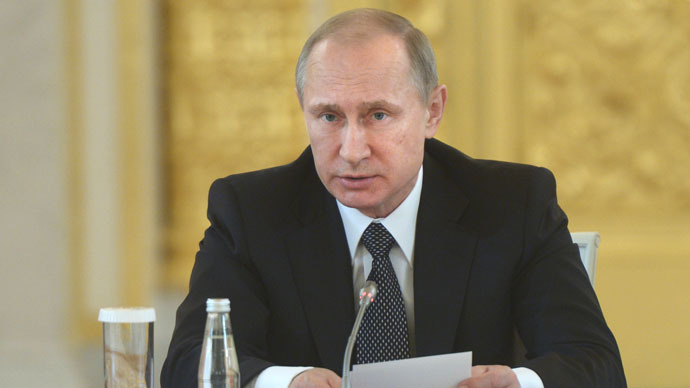 Russia doesn't want a repetition of the gas disputes with Ukraine over pricing and unpaid bills, said Russian President Vladimir Putin, adding that Ukraine has currently prepaid for enough Russian gas for only two days. 
Russia is ready to fulfill its obligations within the terms of the agreement between Gazprom and Naftogaz, but only on a prepayment basis, said Putin on Wednesday as quoted by RIA.
"The prepaid gas is enough exactly for two days, no measures have yet been taken [by Ukraine – Ed.]," he said, adding that he will ask the prime minister and Gazprom to pay more attention to the issue in order to prevent another dispute. "We are ready to fulfill all the obligations, but only within the terms of prepayment," he said.
On Friday Naftogaz paid $15 million to Gazprom, enough to cover 24 hours worth of consumption.
READ MORE: Ukraine pays Gazprom $15mn for 24 hours worth of gas
A new gas standoff between Russia and Ukraine broke out in mid-February, largely over supplies to Donbass. On February 18 Naftogaz suspended deliveries to the area because of what it said was damage to the pipelines during the military operation. Russia then started supplying gas to Donbass directly, warning that a prepayment delay by Ukraine may deprive the country of further Russian gas.
On Wednesday, Naftogaz started counting Russian gas supplied through the measuring stations on the border of Russia and the self-proclaimed republic of Lugansk as part of its contract.
The last gas standoff between Russia and Ukraine was in June 2014 when Gazprom switched off its gas supplies to the country for a "chronic" failure to pay its debts. After a six-months hiatus, Russia resumed its gas supplies under so-called 'winter package' in December that had a price fixed at $378 per 1,000 cubic meters of gas.However, a drop in the cost of oil led to lower prices, with gas now supplied to Ukraine at $329.
Ukraine's Naftogaz owes Gazprom $2.4 billion for deliveries, including $200 million in penalties, according to Russian Energy Minister Aleksandr Novak. Russia is also considering a possible discount to Ukraine for the coming spring and summer.
Russia previously cut its supplies to Ukraine in 2006 and 2009.
Ukraine's economy is in ruins. On Wednesday the IMF said it expected it to contract 5.5 percent in 2015, after it shrank about 7 percent last year. The national currency, the hryvnia, has lost about 50 percent of its value since the beginning of the year, with inflation now officially estimated at 28.5 percent. The country's foreign exchange reserves stood at $6.42 billion on February 1, 2015, enough to cover about five months of imports. Naftogaz also admitted last week it was bankrupt.
READ MORE:Ukraine hikes rate to 30%, to avert hyperinflation and currency plunge