First sale of German five-year debt with negative yield
Published time: 25 Feb, 2015 15:19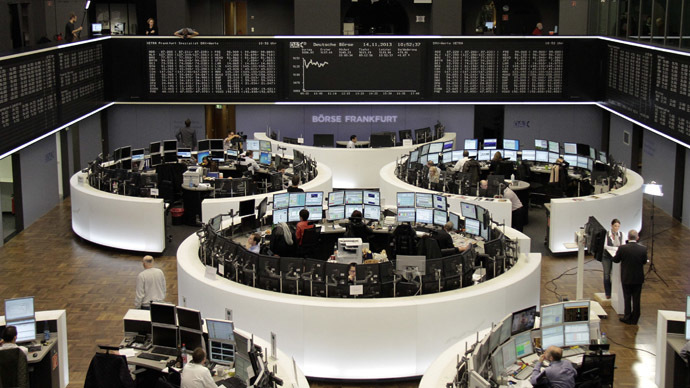 Germany has sold €3.28 billion in five-year bonds with a negative yield for the first time in its history, just days before the eurozone's monthly €60 billion 'easy money' program starts.
The average yield for bonds due in April 2020 auctioned Wednesday was minus 0.08 percent. This was the lowest rate for five-year bonds ever placed by a eurozone country. Earlier this month, Finland placed a similar bond with a yield of negative 0.02 percent.
Negative yield means that investors who buy bonds effectively pay the German state for holding its debt.
Investors pay to lend money for 5yrs to #Germany. Berlin sold €3.3bn 5Yr bond at -0.08%, negative yield for 1st time. pic.twitter.com/5aMBofO3hA

— Holger Zschaepitz (@Schuldensuehner) February 25, 2015
Bonds are being traded at a negative yield due todeflationin the eurozone and the €60 billion a month program of quantitative easing (QE) recently launched by the European Central Bank.
READ MORE: ECB announces milestone €1.14trn 'easy money' program
Bond prices, which climb when yields drop, are in turn expected to rise after the ECB launches QE measures in March. That means investors could potentially sell their bonds at a profit.
"Hence, the negative yield is not scaring investors away," said Jens Peter Sorensen, chief analyst at Danske Bank as quoted by the Wall Street Journal.
As the interest rates of the eurozone are likely to remain low for some time, investors might become interested in purchasing five-year German debt and selling shorter-term German bonds where yields are even more negative, said David Tan, global head of rates at J.P. Morgan Asset Management.
"We see no prospect of the ECB tightening in the near term," Mr. Tan told Reuters.
The five-year yield of Dutch, Austrian and German bonds are now all below zero, as well as five-year securities issued by the European Financial Stability Facility, one of the bloc's rescue funds. The bonds of Denmark and Switzerland also show negative performance.
In January, ECB President Mario Draghi said maturities of sovereign bonds purchased will range between two and 30 years, including bonds with a negative yield.