No deal: Greece-EU bailout talks break down, Athens given 1 week ultimatum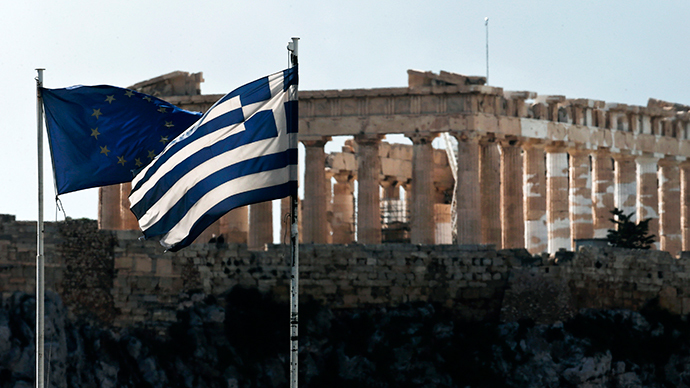 The eurozone has given Greece an ultimatum of one week to request an extension of its bailout deal, as Athens turned down the offer dubbing it "absurd" and "unreasonable". Greece's finance minister said they were ready to sign - but something different.
But despite not reaching a deal, Greece Finance Minister Varoufakis insisted Athens is "ready and willing" to reach a deal and that he is confident of reaching one in 2 days, he said in statement after the talks.
"We were offering to refrain effectively from implementing our own program for a period of six months and all we were getting back was a nebulous promise of some flexibility that was never specified," Varoufakis said.
Varoufakis said that he was ready to agree a deal with creditors giving Athens up to six months credit in return for putting major new budget policies on hold.
But this had been swapped for a different proposal from Jeroen Dijsselbloem, the Eurogroup president, which he couldn't sign because it obliged Athens to extend its current bailout package. As a result the talks, which had been expected to last well into the night, broke down after just four hours.
"I have no doubt that, within the next 48 hours Europe, is going to come together and we shall find the phrasing that is necessary so that we can submit it and move on to do the real work that is necessary," Varoufakis told a news conference.
Germany was maintaining a tough line throughout the talks. German finance minister Wolfgang Schaeuble bluntly said that Greece had lived beyond its means for too long and that Europe could not keep handing over cash without guarantees from the Greeks.
"What I have heard so far has not strengthened my optimism. It seems like we have no results so far. I'm quite skeptical. The Greek government has not moved, apparently," he said as he arrived for the talks.
The source of the dispute lies in the government of radical left-wing Alexis Tsipras, which was elected in January with a pledge to get rid of the bailout and the crippling austerity measures that have gone with it.
Yanis Varoufakis said earlier that he was sick of being treated as a "debt colony" and being subjected to "the greatest austerity" for an economy which has been reeling from crisis to crisis.
"Our government is not asking our partners for a way out of repaying our debts. We are asking for a few months of financial stability that will allow us to embark upon the task of reforms that the broad Greek population can own and support, so we can bring back growth and end our inability to pay our dues," he said. However, he insisted that Athens is "ready and willing" to reach deal
As the talks finished early, sources in the Greek government slammed the bailout terms as "unreasonable" and "absurd" to news agencies.
The Eurogroup head said there was still time for Greece to agree an extension.
"There is time and ample room to agree on the terms of an extension. When I listen to my Greek colleagues talking about a bridging loan and so on – that's a different word for an extension," Jeroen Dijsselbloem told journalists.
Another meeting was possible this Friday, he added, but said that it was "up to the Greeks".
There is little time among Greeks for the troika of the European Commission, the European Central Bank and the IMF, which ordinary Greeks blame for their dire economic situation.
In order to replace the bailout, which was agreed on three years ago, Greece wants a "bridging agreement" worth 21 billion euros, which would allow the new government time to implement radical economic reforms.
Greece is also asking the eurozone to give it treasury bills guaranteed by the European Central Bank (ECB) as well as requesting the freeing up of bonds currently used as bank guarantees in the Hellenic Financial Stability Fund to be used for public financing.
#Lagarde, not happy. #Eurogroup#Greece#nowpic.twitter.com/mLPyXGSOok

— Ilias Siakantaris (@iliassiak) February 16, 2015
So far Greece's eurozone creditors have shown little appetite to give Athens so much as an inch on the austerity measures that have been demanded in return for a massive 240 billion euro loan to stave off bankruptcy.
It was not at all clear late Monday when the Eurogroup would meet next to negotiate and reach a deal with the Greeks.
"It depends on the decision of the Greek authorities. It was clearly decided that if and once this request for an extension of the bailout is there, if there are certain commitments from the Greek authorities to stick to the program, then the chairman of the Eurogroup will announce the next Eurogroup," European Commission Vice President Valdis Dombrovskis said after the inconclusive meeting on Monday.
The EU Economics Commissioner and former French finance minister Pierre Moscovici that the only aim was to keep Greece in the Eurozone. Although he also said that the EU has to take into account the program that the Greek voters choose.
France however, has showed signs that it will push for a compromise. French Finance Minister, Michel Sapin, hinted that the eurozone may agree to some of the Greek requests and also urged the Greeks to extend their current deal to allow time for the talks to bear fruit.
As long as Greece remains at the negotiating table the ECB has provided emergency funding worth 65 billion euros, but unless a compromise can be found, Greece will lose the emergency assistance at the end of the month, which would result in certain financial collapse and the country being unable to pay its debts. This in turn would leave Greece with no choice but to leave the eurozone.
However, there is skepticism among EU officials that 12 days do not give them enough time to hammer out a deal and are already talking about an extension of the existing measures.
The Irish finance minister, Michael Noonan, criticized Greece for failing to agree to an extension of the existing program and for failing to provide the specifics of compromise with the eurozone.
"We would certainly accede to a Greek request for an extension of the program. If that were to happen, some of the roadblocks would fall away and it would be possible to get down to specifics," he said.
But even with an extension the road ahead will be tough. A deal, if reached, must be acceptable to all 18 other members of the eurozone and must be ratified by at least six national parliaments.
You can share this story on social media: