​Greek stocks rise after new cabinet offers 'smart debt engineering'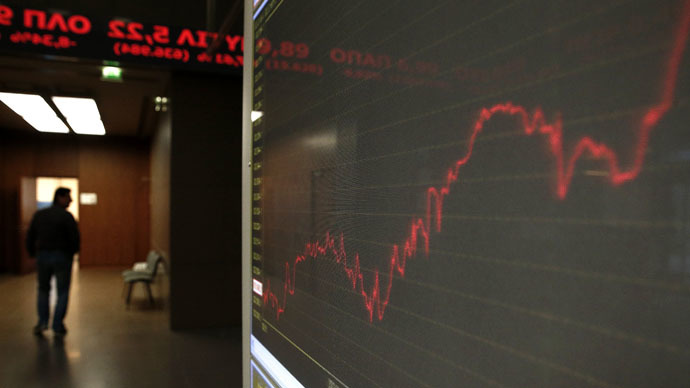 Stocks in Greece rose sharply in early trading Tuesday after the new government of Greece revealed a plan of swapping its €315 billion foreign debt for growth-linked bonds to put an end to a standoff with its creditors.
Driven by hopes of an imminent resolution of a Greece debt deal, Athens' main stock index advanced 3.8 percent, adding to Monday's 4.6 percent rise. Shares in the National Bank of Greece were up 18.81 percent at €1.2 at 11:30 GMT.
The Greek stock market has still sold off more than 35 percent since the start of the year, Greek bonds rose sharply too.
On Monday, the newly appointed Finance Minister Yanis Varoufakis offered a "menu of debt swaps," which includes two types of new bonds. The first type, indexed to nominal economic growth, would replace European rescue loans, and the second, which he termed "perpetual bonds," would replace European Central Bank-owned Greek bonds.
"What I'll say to our partners is that we are putting together a combination of a primary budget surplus and a reform agenda," Varoufakis said in London where he met with his UK counterpart George Osborne. The finance minister started a Europe tour aimed at winning support for renegotiating Greece's €245 billion bailout when he visited France at the weekend. On Tuesday, he is meeting Italy's Prime Minister Matteo Renzi.
"I'll say help us to reform our country and give us some fiscal space to do this, otherwise we shall continue to suffocate and become a deformed rather than a reformed Greece," he said.
READ MORE: Greece's Syriza govt could pose greater risk to global economy than Middle East conflict – Osborne
Greece in charts: debt and deficit ratios since 2007 pic.twitter.com/2oM79o14Pn

— Vincent Flasseur (@ReutersFlasseur) February 2, 2015
During his talk with Osborne, Varoufakis stressed that wealthy Greeks who had not paid their fair share of taxes during the country's six-year economic crisis would be the government's main target. "We want to prioritize going for the head of the fish, then go down to the tail," he was quoted as saying.
"Whatever our partners think about our being from the radical left, we're serious about reform, serious about being good Europeans and serious about listening. The only thing we shall not retreat from is our view that the current unenforceable program [agreed with our creditors] needs to be rethought from scratch," the Financial Times reports.
Greece's current bailout officially expires on February 28 but the country is looking for a four-month "bridging program," to stretch from until June 1, under which the European Central Bank would promise to keep Greece's financial system afloat by continuing to supply liquidity on favorable terms.
The Greek government is to present its detailed plan to European partners before the end of February.
However, the idea of softening the terms of the bailout is already strongly opposed by Europe's heavyweight Germany.
Earlier on Monday, Germany's Finance Minister Wolfgang Schaeuble said in an interview to Reuters that Berlin would not accept any unilateral changes to Greece's debt program.
You can share this story on social media: