Ruble slump won't damage trade with China - ambassador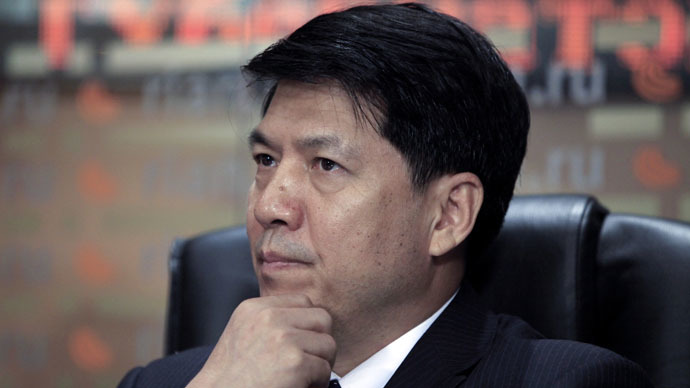 China's ambassador to Moscow Li Hui says even though the ruble has lost more than 17 percent of its value this year it won't significantly affect China-Russia trade and cooperation.
"It is understandable that the devaluation and volatility of the ruble have a certain influence on Chinese-Russian trade, especially with the considerable exchange rate risks for export companies that have signed agreements in Russian rubles, but the devaluation of the ruble doesn't have much effect on the large-scale trade partnership between China and Russia," Li Hui told RIA Novosti in an interview.
READ MORE: Russia-China trade hits record $59bn in first half of 2014
The value of the Russian ruble started to slide again after the Central Bank of Russia decided on Friday to cut the key rate by 200 basis points to 15 percent. The currency was trading at 70 against the US dollar on the Moscow Exchange at 2:00PM MSK Monday.
In 2014, the ruble lost almost a half its value against the dollar due to plummeting oil prices and Western economic sanctions.
READ MORE: Russia's Central Bank unexpectedly slashes rate to 15%, ruble reels
According to Li, regardless of the devaluation of the ruble and falling oil prices, Russia and China still believe in "growth despite existing trends."
"I believe that we can contain and increase the volume of our bilateral trade by using the joint efforts of our government organs and businesses," Li added.
Russian Deputy Prime Minister Igor Shuvalov suggests that after the dramatic depreciation the Russian currency would start recovering soon.
The Chinese ambassador said that trading in yuan is very forward thinking, and Russian businessmen are ready to trade in the Chinese currency.
READ MORE: Ruble-yuan settlements will cut energy sales in US dollars – Putin
In late 2014, Russia and China agreed a national currency swap deal to shore up the depreciating ruble and said they are working to increase the number of mutual payments in rubles and yuan.
China is Russia's second-biggest trading partner after the EU, which hit a record $59 billion in the first half of 2014. The two countries are planning to increase bilateral trade to $200 billion by 2020.
You can share this story on social media: