​Russia needs sharper action to avoid 'junk' downgrade – former finance minister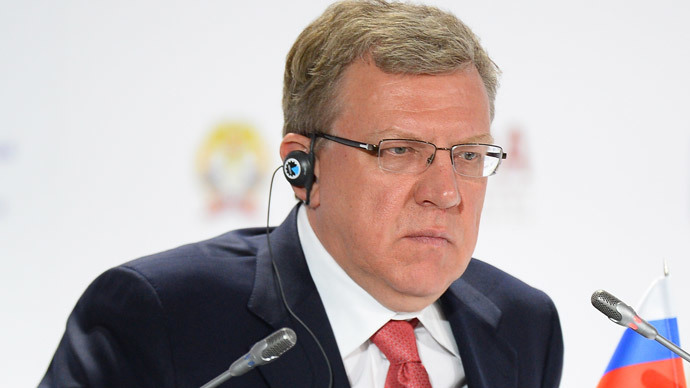 The Russian government and Central Bank of Russia (CBR) should take more concrete measures to avoid another debt downgrade by international rating agencies, which risks dragging the country into 'junk' status, says former finance minister Aleksey Kudrin.
"The sharper the course of the CBR and the government, the less desire the agencies will have to review the rating," Kudrin told reporters Wednesday at the Gaidar Economic Forum in Moscow.
He acknowledged that the risks of a review of Russia's credit rating are high, but there won't be a debt default.
"I don't even doubt that the state is capable of meeting its obligations on public and foreign debts. In this case there's technically no possibility of sovereign debt default," Kudrin said.
Kudrin rules out possibility of Russian sovereign default. - Me too.

— Russian Market (@russian_market) January 14, 2015
READ MORE: Medvedev: Russia won't abandon ruble free-float
Instead, private Russian company debt is the key threat to the economy at the moment, as Western sanctions have cut the country off from international funding.
"There's a possibility that a certain share of the collective debt will be defaulted," he warned adding that the government and the central bank must work together to support companies in a tough situation and meet their commitments to creditors.
Kudrin's comment comes days ahead of the scheduled mid-January revision of Russia's rating by S&P. This time the agency's decision is of special importance, as last time S&P left Russia just one step away from 'junk' status. Experts agree that dropping into a non-investment category would put a great strain on Russia's economy and trigger a massive sell-off of Russia equities.
READ MORE: China and Russia to launch new credit rating agency in 2015
In November 2014 the CBR let the ruble float freely and gave up automatic currency interventions, seeking to reduce the speculative pressure on the ruble and help the currency find its fair value. Shortly after that the ruble started falling sharply, touching its historic low of 80 against the US dollar and 100 against the euro in December. The currency has come back and on Wednesday it was trading at 66.4 to the dollar at 18.00 PM MSK on the Moscow Exchange.
So far, the CBR has been using big financial tools, like a $50 billion repurchase agreement, to support the ruble.
READ MORE: Russian central bank to use new $50bn tool to revive ruble
The Government in turn ordered some of Russia's biggest exporters sell part of their foreign currency reserves to balance the supply of dollars and help keep the ruble up.
READ MORE: Ruble recovers, as big exporters ordered to behave
You can share this story on social media: