Era of record foreign reserve stockpile in China over - economists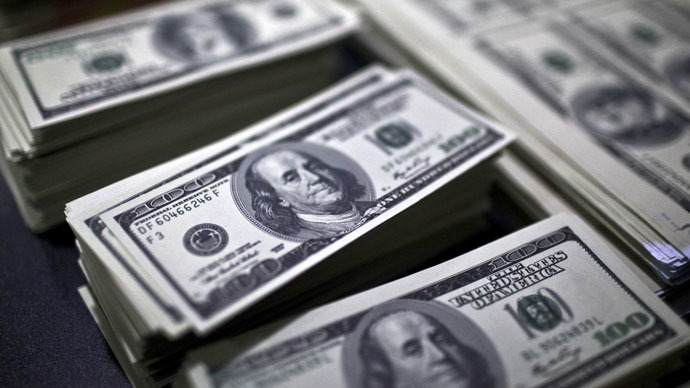 Foreign currency reserves in China have reached a ceiling of $4 trillion, and won't rise above this threshold in 2015, according to the majority of economists in a Bloomberg survey.
11 out of 18 polled said the zenith was reached on June 30th of 2014, and 12 said the cash hoard will max out between $3.5-4 trillion.
"It means the central bank has to find other sources to inject liquidity - it has to cut the required reserves, it has to create more open-market tools," Xi Junyang, a professor at Shanghai University of Finance and Economics, told Bloomberg News.
China holds the world's biggest foreign currency (FX) reserves, which currently stand at $3.9 trillion. The stockpile reached its peak of $3.99 trillion in June 2014 before dropping significantly in the third quarter of 2014 down to $3.89 trillion, the biggest drop in the central bank's history.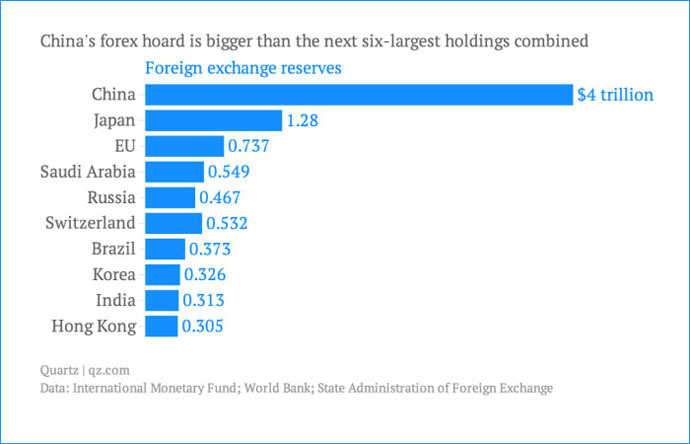 In 1979, foreign reserves stood at just $167 million under then President Deng Xiaoping
Assets are held by the People's Republic Central Bank (PCB), and are rumored to consist of about two thirds dollars, a quarter in euro, and the rest in pounds sterling, yen, and other currencies. The People's Bank is secretive about the exact holdings.
China's FX reserves have been boosted in part by the weakening of the yuan after the PCB began intensive interventions to shake off speculators. The currency lost 2.4 percent in 2014, which was the first depreciation of the currency since 2005. Analysts believe interventions will be less likely in 2015.
"For China's central bank, it means the single most important source of liquidity is gone," Junyang said.
Regular interventions have been halted as China moves towards unpegging its currency and bringing it to a market-determined exchange rate. The direct interventions run contrary to this stated goal, which China originally set to be met by 2015. In a traditional sense, the FX reserve is meant as a buffer in times of emergency and is used for the repayment of external debt.
The country is seeking to open up its economy to market forces, and as part of that linked the Shanghai and Hong Kong stock exchanges in December.
READ MORE: China opens up $4.2tn stock market to world via Hong Kong
The Chinese economy has been keeping pace with the world's biggest, the US, and in October, surpassed the superpower in terms of purchasing-power-adjusted GDP. In terms of real GDP, the US remains the top player, with a $16.8 trillion economy.
There has been a loss in foreign investment as Beijing advocates for more home-grown business, which is pushing out foreign competitors, and investment in dollars.
The world's second-largest economy expanded 7.3 percent in 2014, but is expected to slow to 7.0 percent in 2015, according to a Goldman Sachs estimate.
You can share this story on social media: