Japan no longer 'nation of savers'
Published time: 26 Dec, 2014 10:45
Edited time: 26 Dec, 2014 10:59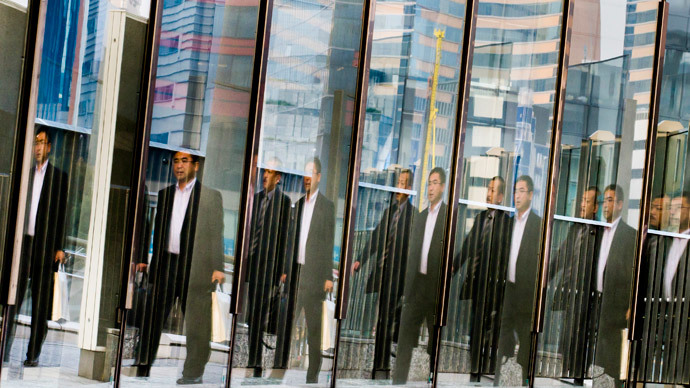 For the first time since 1955 people in Japan have spent more this year through March than they saved, as wages in real terms are at an almost five- year low.
The household savings rate in the fiscal year ending in March dropped to minus 1.3 percent, ending up negative at $30 billion (3.7 trillion yen), according to Thursday's report by the Cabinet Office.
#Japan's #savingsrate turns negative #financehttp://t.co/KrT27OUGolpic.twitter.com/GnO1Q4BaU7

— Financial Trends (@Financeolizer) December 26, 2014
The data is another challenge to Prime Minister Shinzo Abe's attempts to revive the world's third largest economy. Japan is going through a period of economic stagnation with deflation and the largest debt to GDP ratio in the developed world.
READ MORE: Japan's PM dissolves Parliament, puts off tax rise to save 'Abenomics'
Meanwhile, real earnings in Japan fell by 4.3 percent year-on-year in November which is the steepest tumble since December 2009, the Labor Ministry added.
The drop was partly triggered by the nationwide consumption tax rise on April 1, but the report also cited a sharp decrease in savings by Japan's rapidly aging population.
The figure has special significance for Japan, as a major part of the government's debt is funded by the country's own savers.
A combination of increased sales tax and the central bank's record easing, a policy of increasing monetary base at an annual pace of $6.5 billion (80 trillion yen), resulted in boosting living costs, cutting household budgets and pulling down consumption.
Abe's goal is to convince enterprises to agree on higher wages in next spring's labor talks. He believes such measure would sustain economic recovery.
The Prime Minister is pursuing a policy of reviving the economy by increasing incomes which would, in turn, prompt consumer spending. The government's aim next year will be to increase wages faster than inflation.