Ruble continues recovery as Putin starts Q&A
The Russian currency has opened higher Thursday, continuing its recovery from the biggest intraday drop since 1998 default on so-called 'Black Tuesday'.
The dollar was down 65 kopeks at the opening on the Moscow Exchange, while on the stock market, the dollar-denominated RTS index was up 6.5 percent.
That's was hours before President Vladimir Putin commenced his much-anticipated Q&A marathon, in which he's expected to face tough economic questions about the ruble and turmoil in the financial markets.
READ MORE: 2014 Q&A marathon: Public awaits Putin's take on watershed year for Russia
Russia's biggest holding, AFK Sistema was the strongest performer in the market, gaining 38 percent by 10:45pm MSK after it was reported that the company's co-owner Evgeny Evtushenkov was released from house arrest.
On Wednesday, the ruble jumped 6 percent against the US dollar to finish trading at 60.51 against the Greenback. On 'Black Tuesday' the ruble dipped to as low as 80 rubles against the US dollar and hit a threshold of 100 against the euro.
READ MORE: Ruble rumble: Currency gains ground after Tuesday trauma
Experts say the ruble's strengthening is a reaction to CBR's anti-crisis package released Wednesday, as well as increasing the key interest rate to 17 percent and a modest recovery in oil prices.
The Central Bank of Russia said it hadn't intervened in the Russian forex market on Tuesday, after it spent around $2 billion in currency interventions on Monday. That is compared to about $774 million spent in all of November.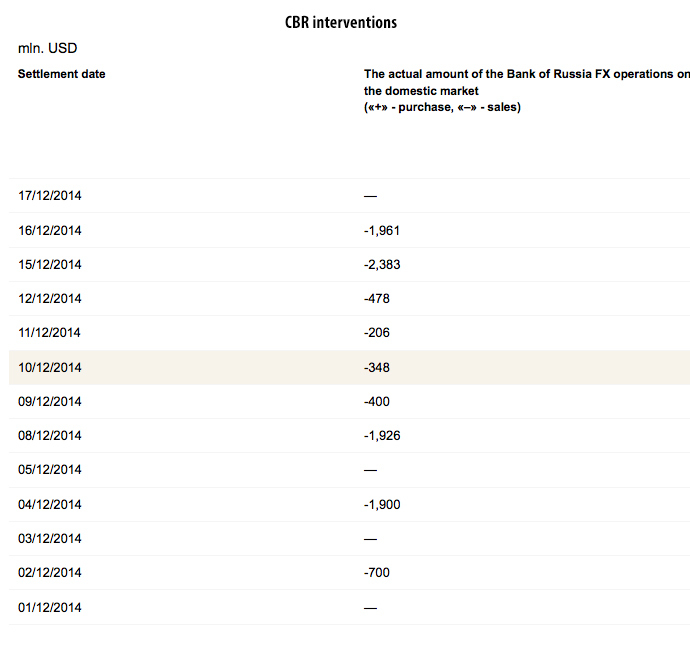 The ruble has dropped more than 50 percent since the beginning of the year amid a drop in oil prices, Western sanctions and speculative pressure.
You can share this story on social media: