Richard Branson: S. Arabia attacking renewable energy with cheaper oil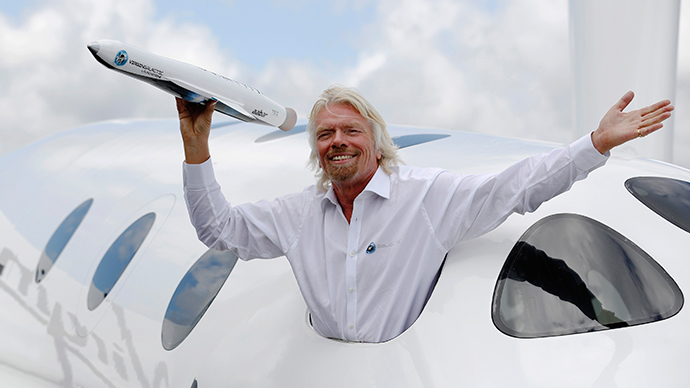 Saudi Arabia's push to drive down oil prices is not just an attempt to undermine the US shale oil boom, but also the global clean energy industry, Virgin founder Richard Branson has said in an interview with British media.
"They have done it before and it hurt," the Guardian cited Branson as saying. "They don't just want to damage the US fracking industry, but also the clean energy business. The collapse of oil prices is going to make it much more difficult for clean energy."
READ MORE: Oil producers to lose $1tn if price below $60 – Goldman Sachs
Branson, the founder of the venture capital conglomerate Virgin Group, who has invested an estimated $350 million in clean technologies, said that both fracking and renewables had put a drastic dent in the bottom line of oil producing countries over the past few years.
"Before the oil price collapsed, solar was actually cheaper [than oil]. If oil goes down to $30-$40 a barrel, then it will make it much harder for clean energy. Governments are going to have to think hard how to adapt to low oil prices," he said.
He said it was time for governments who are intent on reducing their carbon emissions to levy a carbon tax on fossil fuel users, which would be offset but the corresponding drop in prices.
"If governments want a carbon tax [at the climate summit] in Paris next year, then it would be the best time. What the clean energy business needs is a gap between it and coal and oil."
Last month, OPEC, the global cartel of oil producing countries, which includes Saudi Arabia, opted not to cut back on oil production amid plummeting crude prices during its 166th meeting.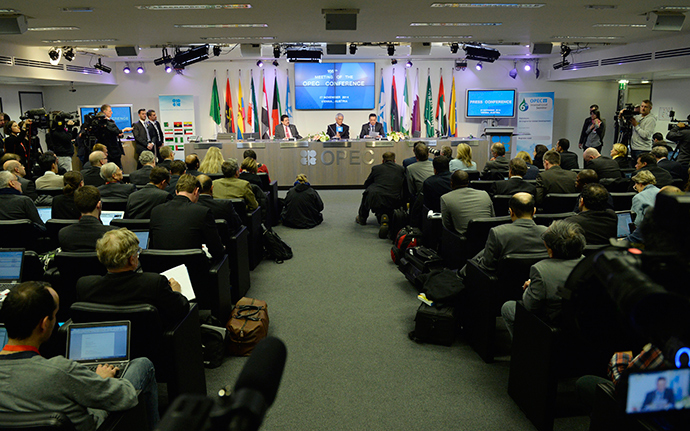 Since June, the value of oil has nearly halved, with crude following below $60 per barrel for the first time since July 2009.
Ali al-Naimi, Saudi Arabia's oil minister, reportedly told fellow OPEC members that a concerted attack on US shale oil was needed to reduce the profitability of North American producers.
"Naimi spoke about market share rivalry with the United States. And those who wanted a cut understood that there was no option to achieve it because the Saudis want a market share battle," Reuters cited a source who was briefed by a non-Gulf OPEC minister as saying.
On Tuesday, Kuwait's oil minister Ali al-Omair said OPEC has no intention of intervening to prop up the price of oil.
READ MORE: OPEC won't cut production even if oil below $40 – UAE energy minister
He added that "[many of] the shale oil and sand oil companies are producing at a cost higher that current oil prices," AFP reports. When asked if OPEC would meet again if the price of oil dropped to $40 dollars a barrel, he said "there are no plans," adding that "we will talk about it when the time comes."
His comments mirrored those made by the United Arab Emirates' energy minister to Bloomberg on Monday.
"We are not going to change our minds because the prices went to $60 or to $40," Mazrouei told Bloomberg. "We're not targeting a price; the market will stabilize itself." He said that OPEC would have to wait "at least a quarter" before considering an extraordinary session, saying current conditions did not "justify" such a meeting.
The collapse of oil prices has in part led to volatility in the Russian economy. Russia, one of the world's largest oil producers, was forced to hike interest rates to 17 percent in support of the ruble, which lost as much as 20 percent of its value on Tuesday.
EMPIRE STRIKES BACK #Ruble#Interventionpic.twitter.com/ujQFWOwD5G

— Russian Market (@russian_market) December 17, 2014
Western-backed sanctions against Russia, which have also trammeled Russia's ability to get foreign credit, have also contributed to ruble's recent volatility.
READ MORE: Ruble rumble: Currency gains ground after Tuesday trauma
The Central Bank has expended in excess of $80 billion to prop up the ruble this year, including more than $8 billion since free floating the currency in November.
According to BBC estimates, Russia loses approximately $2 billion in revenue for every dollar fall in the price of oil.
Moscow, however, says it will not cut back its own oil production to ratchet up the price of oil.
You can share this story on social media: