US, European markets tumble following ruble, oil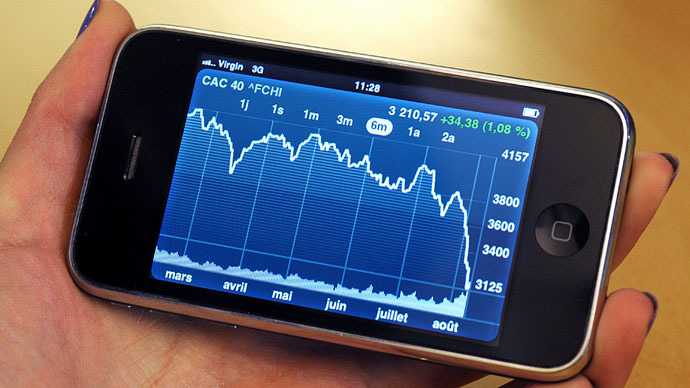 US stock futures fell along with shares in European companies exposed to Russia, as the ruble and crude oil slid to new record lows on Tuesday.
The Russian ruble lost over 20 percent against hard currencies on Tuesday. At its worst the ruble plummeted to 75 against the US dollar, and traded at almost 100 to the euro on the Moscow Exchange.
Brent crude fell below $59 a barrel for the first time since May 2009, losing 4 percent as it hit a low of $58.50. US WTI crude was down 3 percent at $54.21 after plunging to $53.80.
READ MORE: Ruble plummets losing more than 20% in a day, hitting new dollar and euro lows
The US stock index futures tumbled following the fall in oil prices. At 12:21 GMT (7:21 a.m. EST) in New York the Standard & Poor's 500 e-minis were down 14.5 points, or 0.73 percent, with 183,494 contracts changing hands. At the same time E-mini NASDAQ-100 futures were down by 0.85 percent hitting 35.25 points in volume of 15,802 contracts. Dow Jones Industrial Average contracts joined the fall sliding 100 points, or 0.58 percent with 15,791 contracts.
"Extreme volatility hits today," Daniel Weston, chief investment officer at Aimed Capital GmbH in Munich told Bloomberg Businessweek on Tuesday.
"Contagion from the turmoil in oil markets will affect all liquid markets, especially the ones that have made investors money year-to-date."
Shares of European companies linked to Russia also fell sharply following the ruble. Raiffeisen Bank International hit a record low, brewer Carlsberg slumped 5 percent to a 30-month low and retailer Metro fell 3.5 percent.
The eurozone Euro STOXX 50 index joined the drop falling one percent at 2,953.70 points at 12:15 GMT. At the same time the STOXX Europe 600 tumbled down 0.7 percent at 321.07 points.
"All markets will be governed by this (the ruble's slide)," Justin Haque, a broker at Hobart Capital Markets told Reuters comparing the situation to Russia's 1998 financial crisis, which resulted in a default.
The drop in shares came despite Russia's aggressive hike of key interest rate to 17 percent late on Monday night.