Canada's currency at 54mo low as oil prices collapse below $60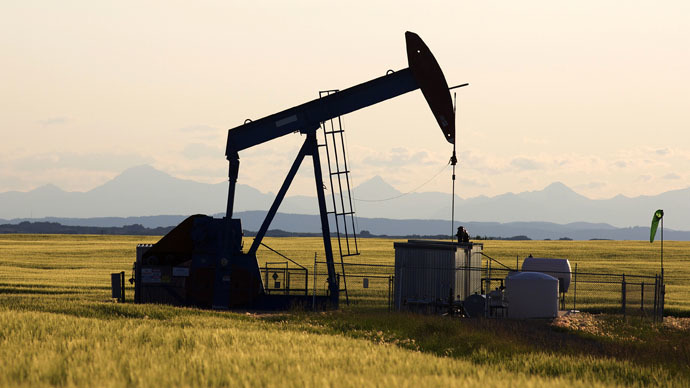 The Canadian dollar is taking spill with falling oil prices, and traded at a new low of 86.58 cents against the US dollar Friday. Canada has the world's third largest proven oil reserves, and relies on oil and gas exports for 30 percent of GDP.
The 'Loonie', as the currency is called in Canada, hit a 5-year low in October, and continues to sink along with oil prices, which have lost more than 43 percent from their June peak. Brent crude, the global benchmark, was trading at $62.95 per barrel at 13:15 MSK. West Texas Intermediate (WTI) crude futures slipped to $59.
The Canadian currency hit a high of $1.05 against the dollar in summer 2011, but has been stuck in a 5-year lull as investors sell off crude oil in the market.
"Roughly speaking, if we start to think about oil prices below $50 a barrel for any significant period of time, you're talking in all likelihood of a US dollar getting up to the CAN$1.20 to CAN$1.25 range," Shaun Osborne, chief currency strategist at TD Securities is quoted by Reuters as saying.
As oil prices collapse, so are the currencies in high-cost oil producing nations, such as Canada, Norway, and Russia. Both Norway and Russia have complex oil drilling projects in frigid northern waters, which often necessitate ice breakers.
READ MORE: OPEC decision will keep oil prices low & hit Russia, Iran, US – experts
Canadian heavy crude has fallen to near $40 a barrel. The blend trades lower than WTI because production and shipping costs in Canada are more expensive. Canada specializes in oil sands, which needs to be extracted from the ground and refined and processed into lighter crude. About one-third of Canada's proven reserves are oil sands.
Like the US shale boom, Canada's oil sands have been a big boost to the economy since the 2008-2009 recession.
Canada is the largest source of energy imports into the United States, the world's second biggest oil consumer. Canadian energy stocks have taken a beating as crude has plunged into a bear market, as many investors are losing confidence in the expensive oil extraction methods.
This week, Canada's benchmark share index, TSX, experienced the biggest single day drop in 18 months.
The volatile downswings in oil prices began in June, after Libya restarted oil production and the US started upping oil exports.
Oil prices plunged after OPEC, heavily influenced of Saudi Arabia, decided not keep the market over supplied in an attempt to drive out more high-cost producing nations, such as Russia, Venezuela, Iran, Iraq, US shale, and Canadian tar sands.

READ MORE: OPEC 'effectively dissolved'; oil will slide to $50 - Bank of America
Producers could cut US Shale output if the price drops below $65-70, according to various analyses. Wells that are already open will remain profitable, but new projects may be derailed as companies lose profit and spending capacity.
You can share this story on social media: