Iran claims 'conspiracy against Muslim people' drags down oil prices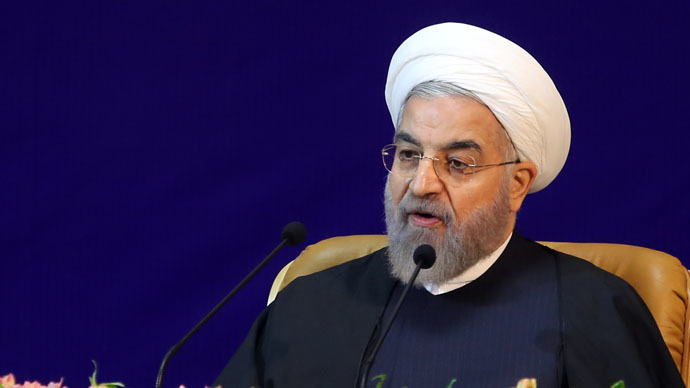 The sudden oil price fall is the result of "treachery" against the interests of the Muslim world, says Iran's President Rouhani. The 40 percent drop in oil prices since June has given Iran more significant problems as it's already living under sanctions.
Hassan Rouhani said Wednesday the falling oil price is at least partly "politically motivated."
"Iran and people of the region will not forget such conspiracies, or in other words, treachery against the interests of the Muslim world," Rouhani said in a cabinet meeting, cited by AP.
Oil has fallen to around $65 a barrel since June and seriously endangered the Iranian economy which has already been affected by sanctions imposed over Iran's nuclear program. The economy of the country is largely dependent on petroleum exports.
Rouhani blames Iran's old rival Saudi Arabia, which refused to cut production, and the failure of the Organization of Petroleum Exporting Countries (OPEC) to agree production cuts that have affected the oil price.
Saudi Arabia is the world's largest producer of oil and it exports one third of OPEC's oil.
According to Iranian oil ministry official Mohammad Sadegh, the cost of crude oil could drop to $40 per barrel if no agreement is achieved between OPEC members.
"Any break in OPEC solidarity or a price war will lead to an enormous price-dive shock," Sadegh said, according to Bloomberg.
READ MORE: OPEC 'effectively dissolved'; oil will slide to $50 - Bank of America
A new report from OPEC has been another drag on the market Wednesday. It expects 2015 demand for its crude oil will be the weakest in 12 years. The report says it will decrease to 28.92 million barrels a day which is the lowest since 2003. The organization is considering lowering oil production next year to 28.9 million barrels a day. However, OPEC is not able to determine the impact of falling prices.
OPEC controls about 40 percent of world oil production.