Bulgarian politicians say Russia's decision on South Stream 'logical'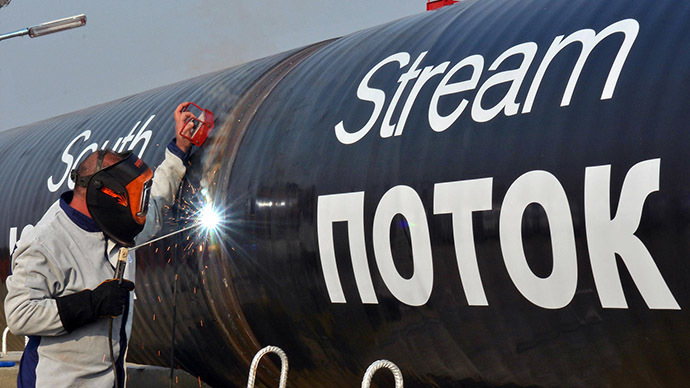 Moscow's decision to drop the South Stream gas pipeline was the "logical conclusion to a prolonged story," politicians in Bulgaria say.
"This [decision to halt South Stream] is really bad for Bulgaria," Tass news agency quoted Bulgarian MP Borislav Borisov as saying. "We have lost an essential project. I was surprised by the news, but, perhaps, Russia's decision is natural, as the Bulgarian government hasn't been actively engaged in this project in recent years."
READ MORE: Putin: Russia forced to withdraw from S. Stream project due to EU stance
Borisov said Russia's decision was a "logical conclusion to a prolonged story," as it couldn't wait forever to hear a positive reply from Bulgaria.
In the multibillion euro South Stream gas pipeline project Bulgaria was supposed to be the first European country to receive Russian gas. Then it would have been delivered further across the continent, running through Serbia, Hungary and Slovenia and on to Austria, Italy, Croatia and Republic Srpska.
Bulgaria has repeatedly blocked South Stream, saying it didn't comply with the EU legislation.
READ MORE: Bulgaria halts South Stream gas pipeline project for second time
Now the country stands to lose about €400 million in lost transit fees, Russian President Vladimir Putin calculated Monday. But it is clear that Sofia won't get any compensation for the lost project and will become the "losing party," the country's former economy and energy minister, Rumen Ovcharov, said.
"We should thank Bulgarian PM Boyko Borisov, who in five years managed to stop all three large infrastructure projects in Bulgaria, which could attract huge investments into the country and produce a large economic effect," Ovcharov said ironically.
The three large infrastructure projects are the Burgas-Alexandroupolis oil pipeline, the Belene nuclear power plant and the South Stream pipeline.
Ovcharov said he didn't see any more opportunities for negotiations as Russia has already shown a lot of patience.