Oil market to face major change – Rosneft CEO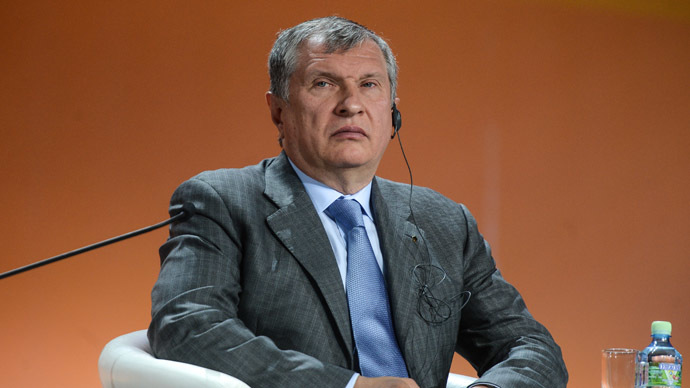 The decline in oil prices and the increase in alternative shale production in the US will trigger a redistribution of the world oil market, said Rosneft CEO Igor Sechin.
"The crisis situation creates additional possibilities. Naturally, some companies will not be able to operate in conditions of low oil prices. The crisis will trigger a redistribution of the market. Due to non-traditional production in the United States, we are on the brink of a big repartition," the head of the world's largest public oil corporation said in an interview with Austria's Die Presse Thursday.
READ MORE: OPEC decision will keep oil prices low & hit Russia, Iran, US – experts
Sechin says cartel-type organizations have proved ineffective and the future lies with another control model.
"It should be admitted that, regrettably, the existing structures, such as the International Energy Agency or the Energy Charter Secretariat, have failed to fulfill their functions. I think cartel-type organizations have no potential, the future belongs to a market council that is to embrace both oil producers, oil consumers and representatives of regulators," he said.
Sechin said that oil prices had been going down for five months and doesn't exclude the possibility of them going below $60 a barrel in the next six months, after OPEC decided to keep the current quotas.
READ MORE: Oil slumps 4% as OPEC leaves output unchanged
He added Russia may halt a number of projects and cut oil production by up to 300,000 barrels a day should oil prices continue to drop. However, he believes the falling prices won't have a critical impact on Rosneft production.
"I would like to say that Rosneft is flexible enough and has some reserves, so a price of $60 will do as well. Of course, we will have to postpone some expensive projects," he said.
Sechin expects the oil prices to stabilize after 2015, when production will go down due to the balance of resources.
"Production is on the rise. Practically all experts agree that in the period from 2017 to 2025 the ceiling will be reached," he said adding that the movement of prices is spurred downwards by US shale production.
"In future reducing production will send the prices upwards," he concluded.