Russia's dual-screen YotaPhone eyes China expansion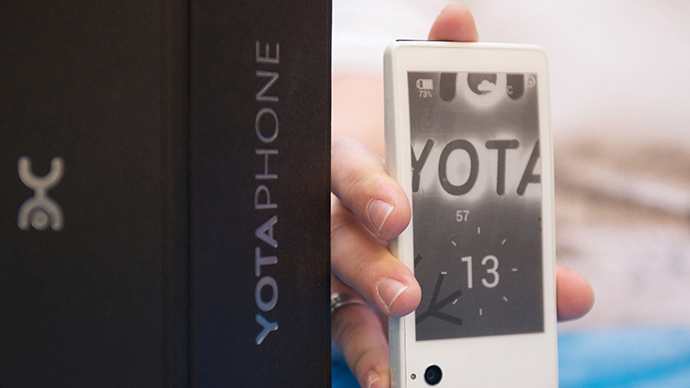 Russian mobile phone producer Yota Devices has plans to expand to China as soon as the first quarter of 2015, with its notable dual-screen gadget YotaPhone 2.
READ MORE: Smart-gift: Putin presents Chinese leader with dual-screen YotaPhone
The smartphone made headlines in China after Russian President Vladimir Putin gave one to his Chinese counterpart, Xi Jinping. The device is yet to hit the shelves, making the gift a sort of preview.
Yota Devices plans to increase the phone's sales by expanding into the Chinese market by the first quarter of 2015, the company's Chief Executive Vlad Martynov told China Daily. The devices will be marketed mainly through online platforms.
"We're happy to say that we are already seeing keen interest [in the Chinese smartphone market]," Martynov said. "The arrival of the YotaPhone 2 is a smartphone game-changer."
The new version of the phone opens up "completely new market opportunities" due to its two screens and 50-hour battery life, he explained.
Both YotaPhone models feature a power-saving electronic paper-like screen that is used to display main indicators like clock and message alerts and also for reading books. A second regular display lights on only when needed for more complex tasks.
The double-screen was praised by early-adopters, the intended market of the novel device. But it was also criticized for having a mediocre interface and glitches. The second model aims to address the problems of its predecessor.
The second generation of YotaPhone was first unveiled to the public earlier this year at the Mobile World Congress in Barcelona. The official launch of sales is scheduled for December, with the line of smartphones set to go on sale in Russia.
Then the phone is expected to hit European markets, with sales in China and South-East Asia expected to start in the first quarter of 2015.
The gadget is available for pre-order at 14,000 rubles (US$300) on its manufacturer's website.
Yota Devices is a privately-owned developer and producer of high-tech LTE devices, its website says. It employs the expertise of IT industry top specialists, including former HP, Microsoft, BlackBerry and Nokia employees.