Russia remains key strategic partner for Total - new CEO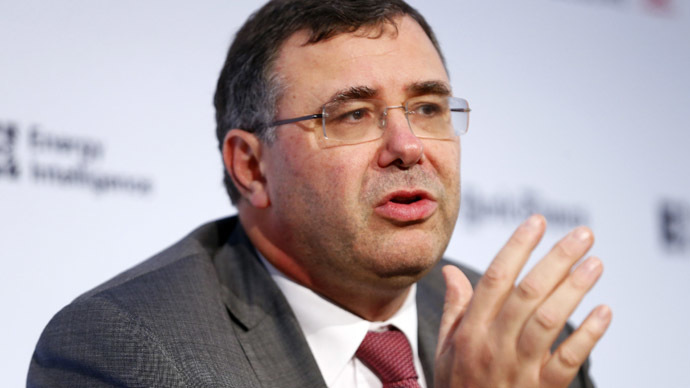 Russia remains a key strategic choice for French oil giant Total, the new CEO Patrick Pouyanne, has confirmed.
"We are speaking here about the most important strategic choice of Christophe de Margerie. We will remain in Russia for a long time," Pouyanne said in an interview with Belgian daily Le Soir.
He admitted that Total became vulnerable with the Western sanctions imposed on Russia, as it has assets worth billions of dollars in the country.
"At the same time there [in Russia – Ed.] are vast natural resources," he said.
READ MORE: An oil maverick with a mustache: Business legacy of Christophe de Margerie in Russia
Pouyanne said Total will stick to the European Union's embargo, but thought it put Europe a greater risk.
"We have a joint shale oil exploration project with LUKOIL, which we cannot implement because certain technologies are banned," he explained. But, "thinking that sanctions could help resolve diplomatic issues means to put the entire Europe at risk."
"Oil and gas are a part of the economy and geopolitics. We work with the subsoil and natural resources of other countries, so we must carry on a dialogue with them," he stressed.
He also said that despite a drop in oil prices Total intends to continue oil exploration and raising production 30 percent to 2.8 million barrels per day in 2017.
Patrick Pouyanne was appointed head of the French oil giant Total on October 22 after former CEO Christophe de Margerie died in a plane crash at a Moscow airport.
READ MORE:'Shock & sadness':Total CEO dies in Moscow plane crash
On October 29, Total Finance Director Patrick de La Chevardiere said the French company would fully fund its share in the Yamal LNG project by March 2015.
The Yamal LNG project includes the construction of a liquefied natural gas plant with an annual capacity of 16.5 million tons. The deposit located in the northeast Siberian Yamal peninsula has potential gas reserves of more than 900 billion cubic meters.
You can share this story on social media: