Putin: Russia, China close to reaching 2nd mega gas deal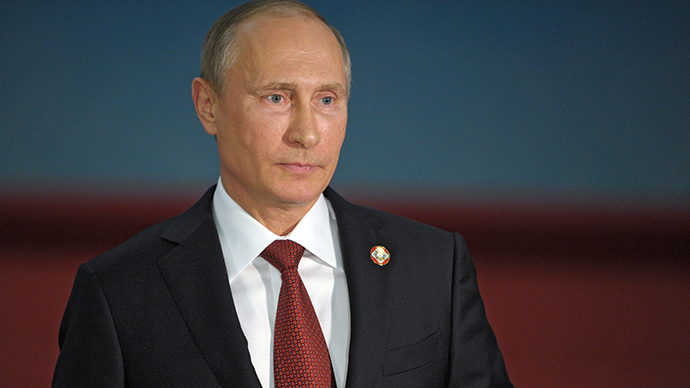 Moscow and Beijing have agreed many of the aspects of a second gas pipeline to China, the so-called western route. It's in additional to the eastern route which has already broken ground after a $400 billion deal was clinched in May.
"We have reached an understanding in principle concerning the opening of the western route," the Russian President told media ahead of his visit on November 9-11 to the Asia Pacific Economic Conference (APEC).
"We have already agreed on many technical and commercial aspects of this project laying a good basis for reaching final arrangements," the Russian President added.
FULL INTERVIEW: US seeks to create economic cooperation for its own benefit - Putin on TPP
In May, China and Russia signed a $400 billion deal to construct the Power of Siberia pipeline, which will annually deliver 38 billion cubic meters (bcm) of gas to China. The Power of Siberia, the eastern route, will connect Russia's Kovykta and Chaynda fields with China, where recoverable resources are estimated at about 3 trillion cubic meters.
The opening of the western route, the Altai, would link Western China and Russia and supply an additional 30 bcm of gas, nearly doubling the gas deal reached in May.
READ MORE: Russia and China may agree on Western gas pipeline in 2015 – Medvedev
When the Altai route is complete China will become Russia's biggest gas customer. The ability to supply China with 68 bcm of gas annually surpasses the 40 bcm it supplies Germany each year.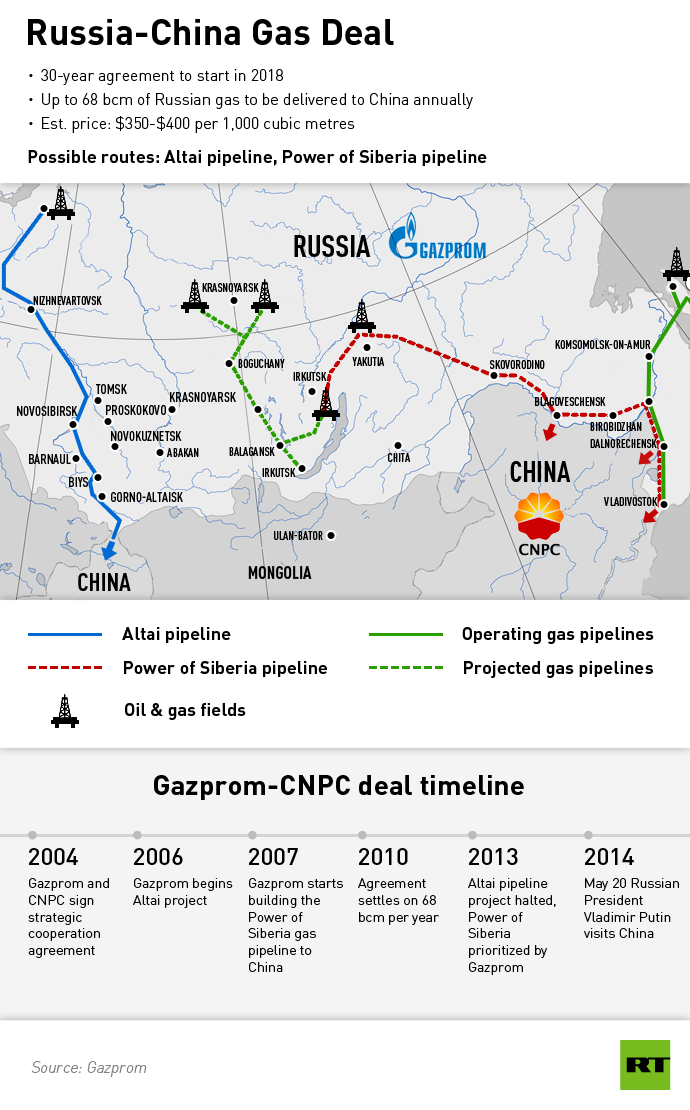 Energy cooperation is a two-way street, which Russia has demonstrated by offering Chinese companies a stake in large energy fields. In September, Russia's largest oil company, Rosneft, offered China a share in its second-largest oil field, Vankor in the Krasnoyarsk region in Eastern Siberia. The area is estimated to have reserves of 520 million metric tons of oil and 95 billion cubic meters of natural gas.
"We have built and put into operation an oil pipeline from Russia to China and concluded agreements providing for the increase in crude oil supplies," Putin said.
China will participate in joint exploration and extraction of crude oil and coal in Russia, and work on a jointly funded oil refinery in China has started.
Joining Putin's delegation are government officials and business representatives, along with Foreign Minister Sergey Lavrov, who will reportedly meet with his US counterpart John Kerry.
Last year's conference was held in the far eastern Russian city of Vladivostok, which is far closer to China than it is to Moscow or St. Petersburg.
Chasing the Dragon
Moscow made a pivot towards the expanding world's second largest economy, and largest by some economic indicators, after the US and EU imposed sanctions on Russia over the events in Ukraine earlier this year.
"Strengthening ties with China is a foreign policy priority of Russia. Today, our relations have reached the highest level of comprehensive equitable trust-based partnership and strategic interaction in their entire history. We are well aware that such collaboration is extremely important both for Russia and China," the President said.
Overall trade between Russia and China increased by 3.4 per cent in the first half of 2014, reaching $59.1 billion, and the two neighbors expect annual trade to reach $200 billion by 2020. China is Russia's second-biggest trading partner after the EU.
The central banks of the two countries have signed a three-year ruble-yuan currency swap deal worth up to $25 billion, in order to boost trade using national currencies and lessen dependence on the dollar and euro.
Another financial leap for the two countries was the establishment of the BRICS Development Bank along with Brazil, India, and South Africa. The fund will be worth $100 billion and there is also a reserve currency pool worth another $100 billion.
You can share this story on social media: