European help to Ukraine 'unprecedented' €11bn-EU representative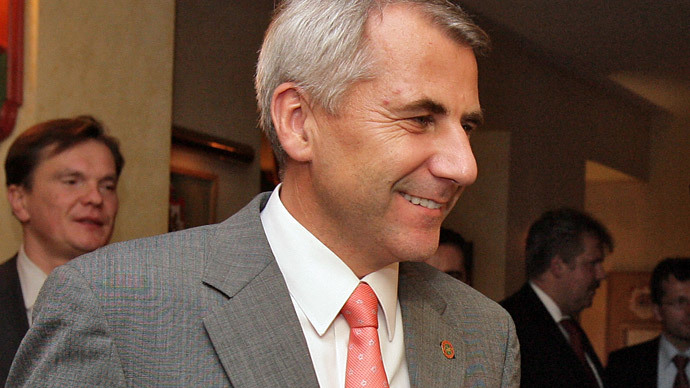 The European Union is ready give Ukraine lots of money to help pay its multibillion dollar gas debt to Russia, according to the head of the EU office in Russia Vygaudas Usackas.
"The European Union is allocating up to an unprecedented €11 billion in financial aid to Ukraine," Vygaudas Usackas said in an interview with the Echo Moscow radio station on Wednesday.
"We helped to reach agreements between Russia and Ukraine over a wide range of complex gas issues, and both the EU and IMF will continue to allocate sums needed for paying off the Ukrainian gas debt," he added.
The EU representative also said that a sovereign and economically independent Ukraine is in the interests of everyone.
"I still hope that someday we will agree at a round-table discussion that Ukraine being an independent economic subject is of our common interest," Usackas said. "So that neither Gazprom, nor the European commission and the IMF had to take care of it."
Usackas says economic, political and social reforms are essential tools that Ukraine should use in achieving this goal.
After months of negotiations Russia and Ukraine reached a gas agreement on October 31, which says Kiev needs to pay $3.1 billion by the year end. On Wednesday Russia's gas monopoly Gazprom confirmed it had received the first tranche of $1.45 billion from Ukraine's Naftogaz which settles its gas debt for November and December 2013.
The winter plan worked out in Brussels also means that Ukraine will need to pay in advance for the gas it's going to use. This means that on top of the debt repayment, Ukraine will have to pay $1.5 billion in advance for 4 billion cubic meters it's going to buy from Russia this winter.
READ MORE: Ukraine's multibillion-dollar gas debt: Who pays?
On Thursday, Ukraine's state-owned Naftogaz said it had no schedule of prepayments for supplies from Gazprom, according to company representative talking to PRIME.
You can share this story on social media: