Ukraine's Naftogaz pays Gazprom $1.45 bn in first tranche for gas debt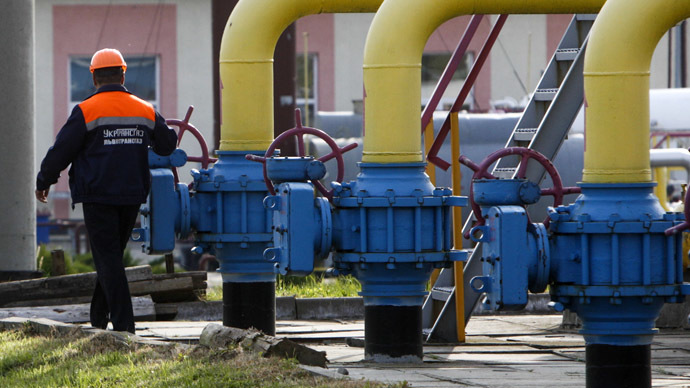 Naftogaz has transferred $1.45 billion in the first tranche of gas debt repayment to Russia's Gazprom, said the press service of the Ukrainian state energy firm. The tranche paves the way for resumption of gas supplies to Ukraine.
Overall Naftogaz has agreed to pay $3.1 billion for the 11.5 billion cubic meters of gas which was supplied by Gazprom in November-December last year and in June, 2014, according to the agreement achieved after trilateral consultations between, Ukraine, Russia and the EU in Brussels on Friday.
Under the deal Moscow agreed to restart gas supplies to Ukraine ahead of winter if Kiev starts paying its debt. Kiev promised to repay all debt for the supplies by the end of the year in two tranches. Gas supplies were shut in June.
READ MORE: EU: No guarantees for Russia if Ukraine fails to settle gas debt
Gazprom is ready to restart gas supplies 48 hours after the first tranche is paid as well as $760 million up front for November, said Gazprom head Alexey Miller on Friday.
"The Russian side is providing a discount during this period in the amount of $100 per 1,000 cubic meters...which would allow the price for November and December be around $378 per 1,000 cubic meters," Russian Energy Minister Aleksandr Novak said following the agreement on Friday. "Also, it was agreed that the take-or-pay mode would not be implemented during this period."
Russia, Ukraine and the EU agreed four basic sources of financing Ukraine's debt repayment - an operating program of the IMF, a special fund organized by the European Commission, Naftogaz's revenues and finally EU aid program funding, the outgoing EU Energy Commissioner Gunther Oettinger said on Thursday.
READ MORE: Ukraine's multibillion-dollar gas debt: Who pays?
You can share this story on social media: