Basic parameters of gas deal agreed – Energy Minister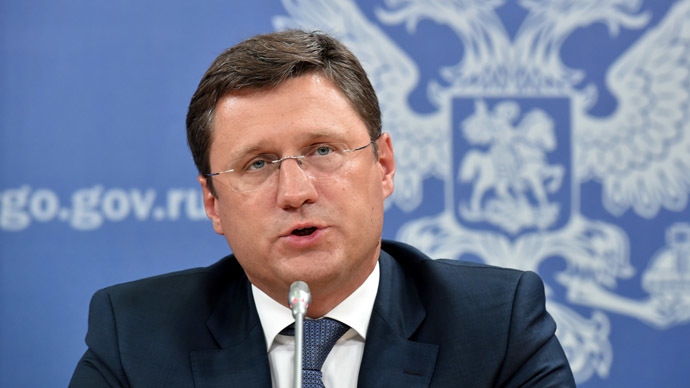 Ukraine and Russia have agreed on the framework conditions for supplying gas in EU-brokered talks on Wednesday, Russian Energy Minister Aleksandr Novak said. But to resume gas deliveries Russia needs a clear payment plan from Ukraine, the minister said.
"The basic terms to resume deliveries to Ukraine in winter are reached, " Novak said at a government meeting Thursday.
He said an additional package of documents still needs to be prepared.
This will include additions to the existing contract between Naftogaz and Gazprom that will stipulate technical features connected with daily delivery volumes, the minister explained.
On Wednesday Ukraine and Russia failed to reach a gas deal in EU-brokered talks in Brussels, as Russia refuses to resume gas deliveries to Ukraine until it pledges to prepay for supplies. Negotiations will continue into Thursday.
"No written guarantees have been provided. In this regard, the risks over whether there will be money or not, are offset by the prepayment system. If there is money, there will be gas," Novak said Wednesday,as quoted by RIA Novosti.
"The negotiations are not yet over, we've just finished a long discussion on documents that must be prepared based on the results of the talks."
The head of Gazprom, Aleksey Miller, said that Russia will only sign the document if Ukraine and the EU agree how to finance debt and future supply payments to Russia. Ukraine plans to buy $1.54 billion worth of gas (4 billion cubic meters) from Russia this winter to keep the heat on, according to Russian Energy Minister Aleksandr Novak.
READ MORE: Ukraine's multibillion-dollar gas debt: Who pays?
The Russian energy minister was in Brussels with his Ukrainian counterpart Yuri Prodhan to finalize a long-awaited gas agreement that will continue supplies to Ukraine and guarantee flows to Europe in the winter months. The talks were mediated by EU Energy Minster Gunther Oettinger.
All three parties, Russia, the EU, and Ukraine met in Brussels on October 20th and confirmed Kiev will pay $385 per 1,000 cubic meters (bcm) for Russian supplied gas through the end of March. Before Ukraine can start purchasing gas, it needs to pay off $1.45 billion in debt.
Ukraine annually consumes 50 bcm, will need 20 bcm of gas to survive the winter, according to energy ministers in Kiev. Currently 15 bcm of gas is in storage.
The EU depends on Russia, its largest single source of natural gas, to meet about a third of its energy needs, 50 percent of which of travels through Ukraine. If Moscow cuts deliveries via Ukraine, 15 percent of Europe's gas will be at risk.
Prime Minister Dmitry Medvedev weighed in and said he hopes an agreement will be reached, as it will bring calm to the crisis in Ukraine, a long-stated goal of Moscow.
"In reality, it's tough work, but it nonetheless demonstrates our desire to contribute to the pacification of the situation in Ukraine, particularly in the economy, which is in a difficult position," Medvedev said Thursday.
You can share this story on social media: