Billionaires in the world double since global crisis - Oxfam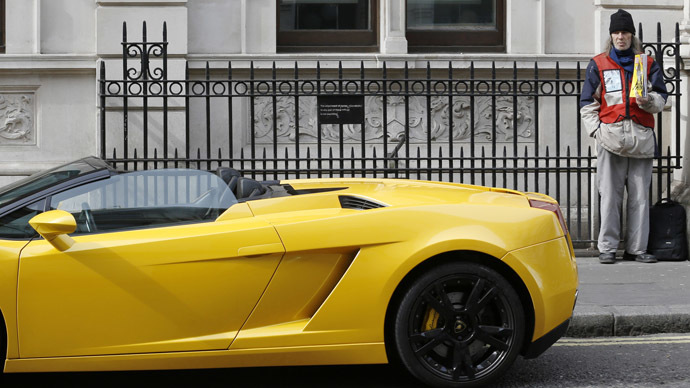 The number of billionaires in the world has more than doubled to 1,646 since the financial crisis of 2009, with inequality reaching new extremes, according to a new Oxfam report on inequality.
The combined wealth of today's billionaires has grown by 124 percent in the last four years to $5.4 trillion, says the report published as part of Oxfam's "Even It Out campaign".
The 85 richest people saw their fortunes increase by around $240 billion over the past year, and own as much as the poorest half of the world's population – the equivalent of $668 million per day or almost half a million dollars per minute.
While the number of super-rich is skyrocketing, one million women have died in childbirth due to lack of basic health care, and 57 million children do not receive any form of education.
Oxfam estimates that 16 billionaires live in Sub-Saharan Africa alongside 358 million people living in extreme poverty, while inequality in South Africa is higher than it was at the end of apartheid.
"In a world where hundreds of millions of people are living without access to clean drinking water and without enough food to feed their families, a small elite have more money than they could spend in several lifetimes", Oxfam's chief executive Mark Goldring said.
"The consequences of extreme inequality are harmful to everyone - it robs millions of people of better life chances and fuels crime, corruption and even violent conflict. Put simply, it is holding back efforts to end poverty."
If the world's billionaires were taxed at just 1.5 percent on their wealth over one billion dollars, it would raise more than $70 billion a year, enough to fill the annual gap of funding needed for basic medical care and education in the poorest countries.
The charity called on governments to follow a plan to restrain inequality by tackling tax evasion, introducing equal pay legislation, shifting taxation from labor and consumption towards capital and wealth and providing adequate safety nets for the poor, including a minimum income guarantee.
Andrew Haldane, the Bank of England's chief economist warned in May that capitalism risked destroying itself if bankers failed to realize they have a moral obligation to create a fairer society, The Independent says.
"Just as any revolution eats its children, unchecked market fundamentalism can devour the social capital essential for the long-term dynamism of capitalism itself," he said.
In response to Oxfam's report Haldane said that the charity not only speaks to the interests of the poorest people but also the wider collective interest.
"There is rising evidence that extreme inequality harms, durably and significantly, the stability of the financial system and growth in the economy. It slows development of the human, social and physical capital necessary for raising living standards and improving well-being. That penny is starting to drop among policymakers and politicians," he added.