Russia against new gas 'loans' for Ukraine - Energy Minister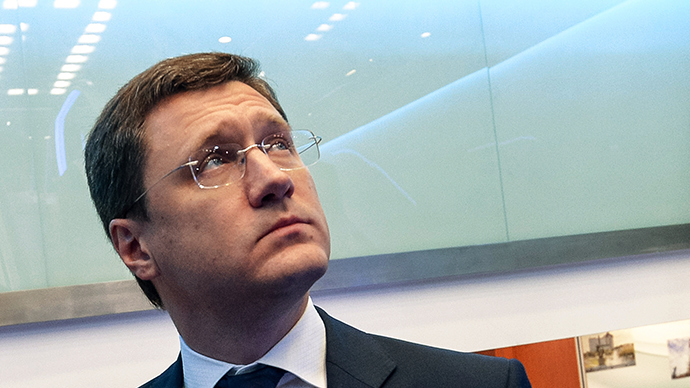 Russia is refusing to agree to payment options proposed by the EU, calling them a hidden form of credit. Kiev has less than a week to find the money for Russian gas, ahead of the next round of negotiations on October 29.
Moscow won't accept any of the payment plans proposed so far by the European Commission, Russia's Energy Minister Aleksandr Novak said Wednesday at a National oil and gas forum in Moscow.
One of the options put forward by the European Commission is that it could advance money to Ukraine for transit of Russian gas through to March. Novak says that this would in fact be a loan to Ukraine's Naftogaz which the company will use to pay for Russian deliveries in November and December.
READ MORE:Ukraine's multibillion-dollar gas debt: Who pays?
"Of course we can't accept this, because this is another Naftogaz loan and it contradicts Russia's stance that the country had earlier voiced. The whole idea turns into Gazprom financing gas transit, that's why we don't accept it," Novak said.
The other alternative proposed by Europe would mean that French company GDF Suez will become an intermediary for supplies of Russian gas to Ukraine. The company says it is ready to purchase Russian gas and then resell it to Naftogaz.
"The question is where Ukraine is going to get financial sources to buy gas from an intermediary. If they [GDF – Ed.] are ready to offer credit to Ukraine, then why don't they give credit to Naftogaz for it to purchase gas from Gazprom?" he asked.
Such an option would mean changes to the transit terms in the 2009 contract, which Russia strongly rejects. "The contract on gas transit was signed in 2009 and is valid to 2019. The Russian Federation and Gazprom are not going to change the system and introduce any alterations," Novak concluded.
Russia, EU and Ukraine held trilateral talks on Tuesday in Brussels. All three parties confirmed Kiev will pay $385 per 1,000 cubic meters through to the end of March. The terms of the current deliveries stipulate that Ukraine pays off the accumulated debt for November and December of 2013 which amounts to $1.45 billion.
READ MORE: Ukraine and Russia agree on $385 gas price for winter
Gazprom estimates Ukraine's total debt at $5.2 billion from November 2013 to June 2014. Naftogaz disagrees with the figures and has taken the case to the arbitration tribunal in Stockholm, trying to have the figure reduced. A repayment of $3.1 billion has been agreed to be made by the end of the year, and was worked out using the price of $268 by Naftogaz.
"We agreed that $3.1 billion will be discharged this year. The first tranche has to be paid off before the resumption of gas shipments and the second one, in the amount of $1.65 billion, by the end of the year. The shipments will be resumed only in this case," Novak concluded.
You can share this story on social media: