Russia limits fruit and vegetables from Ukraine over EU re-export fear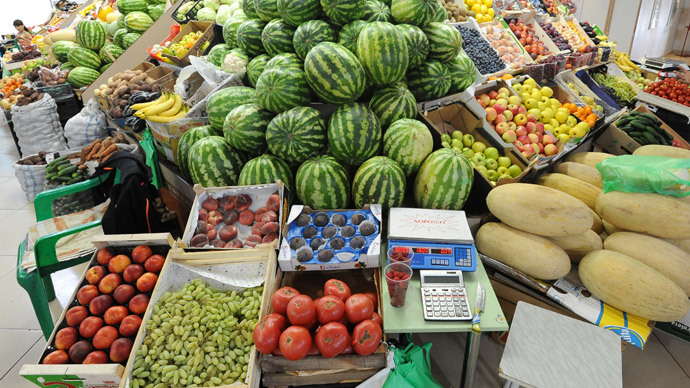 Russia has placed a ban on the import and transit of all fruit and vegetables from Ukraine, starting Wednesday, for fear they may originate from the EU, Russia's consumer health watchdog Rosselkhoznadzor has said.
Any unmarked agricultural cargo coming from Ukraine to Russia runs the risk of originating from the European Union, which violates Russian sanctions against importing EU products.
READ MORE: Russia bans agricultural products from EU, USA, Australia, Norway, Canada
Ukraine sends about 80 percent of its fruit and vegetable exports to Russia, its largest trading partner. The total value of the products is $30 million.
"To date Rosselhoznadzor hasn't received a response from Ukrainian counterparts, and having taken into account the full range of threats and risks of the current situation, the deputy head of Rosselkhoznadzor, Aleksey Saurin, has decided, as of tomorrow, to introduce temporary restriction on imports from Ukraine, as well as the transit of produce through its territory," RIA reports the watchdog as saying.
Rosselkhoznadzor asked Ukraine's hygiene agency, Gosvetfitosluzhbe, to provide proper labeling and information on fruit and vegetables that may be EU re-exports by October 21, which hasn't happened.
The agency said the products weren't labeled or marked, which doesn't meet Russian food safety standards, which leads them to suspect they are not originally from Ukraine.
Russia's consumer hygiene authority said it has observed a sharp increase in imports of apples, tomatoes, cucumbers, pears and plums to Russia from Ukraine in August and September after the ban, compared to the same period last year.
Moscow has expressed fears that the flow of European goods into the Russia via Ukraine would be a threat to its domestic market. This is one of the reasons that Ukraine delayed its entrance into the EU trade union.
Kiev's decision to access the EU instead of Russia's Eurasian Economic Union has hindered several sectors of the economy including trade.
Including agriculture Ukraine sends 20 percent of its exports to the Russian market. On Monday, Russia's statistical service announced that trade in the first half of 2014 between Ukraine and Russia dropped 12 percent, down to $21.9 billion from $24.6 billion in the same time period of 2013.
In September, Russia suspended all confectionery imports from Ukraine after two companies failed to comply with labeling standards.
Russia had previously curbed imports of a range of other goods from Ukraine over quality issues, including animal fat, dairy products, fruit juice, and beer.