Russia's blacklisted Rosneft, billionaire Rotenberg take EU to court over sanctions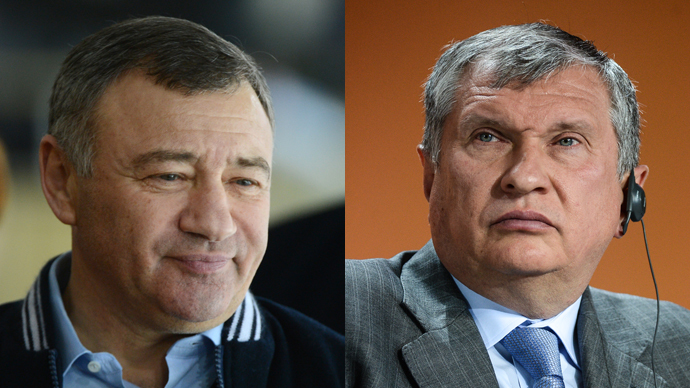 State-owned oil company Rosneft and billionaire Arkady Rotenberg have filed a case in the European Court of Justice against the European Council challenging its decision over sanctions, according to papers filed with the court.
Rosneft submitted the claim on October 9, and Rotenberg the next day, October 10.
On October 9, Rosneft announced a tender to law firms worth £17.7 million for five of legal work to help win the case, TASS reports citing Rosneft documents.
The full text of the claim isn't available on the court website, but the Financial Times says the Russian oil giant is challenging the European Council decision dated July 31 that placed the company and Arkady Rotenberg, President Putin's judo partner, on the blacklist.
That round of sanctions banned some of Russia's biggest and most important firms from borrowing long-term on European financial markets. Individuals sanctioned, included Arkady Rotenberg, are faced with a travel ban and a freeze of assets held in Europe.
Rosneft declined to give RT comment on the issue.
Arkady Rotenberg is the Chairman of SMP Bank, Russia's 36th largest bank which was sanctioned by the US in March after Crimea voted to rejoin Russia. He is a long-time friend and former judo sparring partner of President Putin.
Along with his brother Boris, the two Rotenbergs have substantial business interests in Russia. Together, they own a controlling share in the Stroygazmontazh Corporation (SGM Group), Russia's largest gas pipeline construction and electrical power line supplier.
SGM is the Gazprom's biggest contractor, and is currently constructing sections of the 2,446 km pipeline that will stretch across Southern and Eastern Europe. The brothers were also in charge of the construction of the Druzhba pipeline project for the Sochi Olympics.
The began began aquiring Gazprom subsidiaries in 2008.
Recently, they sold their shares in the Finnish hockey team Jokerit, along with the stadium they built to Boris's son, Roman Rotenberg.