EU, Kazakhstan agree on enhanced cooperation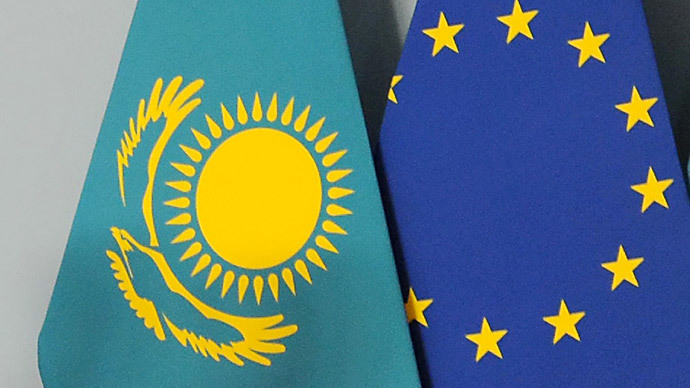 The EU and Kazakhstan have signed an agreement in Brussels Thursday, forging closer economic and political ties.
President Nursultan Nazarbayev also met with European Commission President Jose Manuel Barroso.
Brussels and Almaty will enhance cooperation on 29 key sectors- including economic, financial, energy, transport, environment, climate change, employment, education and research.
Kazakhstan is the biggest economy in Central Asia, and has large oil reserves, and is the world's largest producer of uranium. It is also closely politically aligned with Russia, and along with Belarus is a member of the Eurasian Economic Union, which comes into force on January 1, 2015.
The EU is Kazakhstan's biggest trading partner and foreign investor. Bilateral trade between the two countries is €31 billion, and the EU accounts for over half of foreign direct investment in Kazakhstan, according to a statement released by the EC on Thursday. Kazakhstan exports €24 billion worth of goods to Europe, with oil deliveries making up 7.5 percent, or €1.8 billion. The EU exports manufactured goods, machinery, and equipment to the landlocked ex-Soviet state.
On Friday Nazarbayev with meet with heads of state from Russia, Belarus, Kyrgyzstan and Tajikistan in Minsk where they are expected to sign a document disbanding the Eurasian Economic Community (EurAsEC) signed in the 1990s in order to prepare for the Eurasian Economic Union, which will be the largest common market in the ex-Soviet sphere come January
The Kazakh president has suggested establishing a free trade zone involving Russia, Azerbaijan, Iran, Kazakhstan and Turkmenistan; all bordering the Caspian Sea and oil-rich.
You can share this story on social media: