Kazakh president proposes free trade zone with Russia, Iran, other Caspian states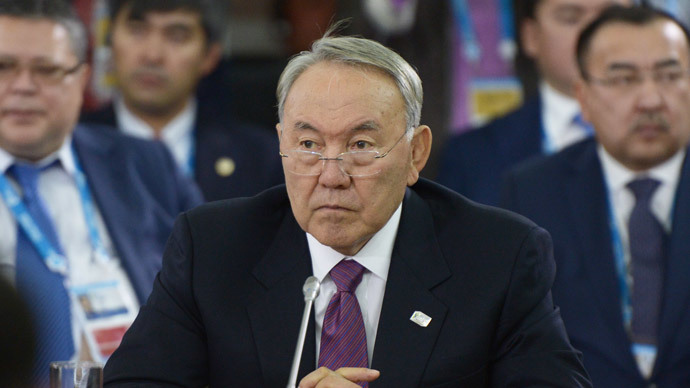 Kazakhstan's President Nursultan Nazarbayev has suggested establishing a free trade zone involving Russia, Azerbaijan, Iran, Kazakhstan and Turkmenistan; all bordering the Caspian Sea and oil-rich.
Nazarbayev suggested the idea at the fourth Caspian Summit, where leaders from the five countries have gathered in Astrakhan, Russia, on Monday.
"Taking into consideration the situation on the world market, we could investigate the possibility of bringing the economies of our countries closer to involve mutual trade. Before regulating the legal status of the Caspian [Sea] we may lay down the foundations for mutual economic activities. I suggest looking into the suggestion of creating a Caspian free trade zone," Nazarbayev said, as quoted by RIA Novosti.
This project "could become one of the first discussions at the government level," Nazarbayev said, adding that the meetings between the heads of state should at least plan to convene once every two years, and also suggested that the 2016 Caspian Summit be held in Kazakhstan.
Turkmenistan's President Gurbanguly Berdimuhamedov also proposed the creation of a permanent Caspian Economic Forum to hold its meetings alternately in the coastal cities of the Caspian states.
Earlier at Monday's talks, the five countries signed a joint statement outlining future prospects for regional cooperation.
Russia, Azerbaijan, and Iran are all oil-rich countries, Kazakhstan also has substantial oil reserves and is the world's biggest producer of uranium. Turkmenistan is one of the fastest growing economies in the world that also has sizable oil and gas resources.
You can share this story on social media: