Russia could ditch US dollar in 2-3 years – head of Russia's #2 bank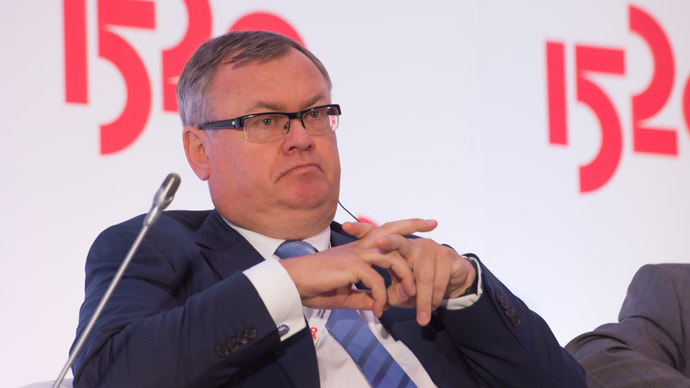 ​Two to three years would be enough time for Russia to switch to international settlements to the ruble, Andrey Kostin, head of Russia's second-biggest bank VTB, said.
"Two to three years is enough, not only to launch [settlements in rubles], but also to complete these mechanisms. But much will depend on how banks will cope with the task," Kostin said in an interview with Izvestia newspaper.
Kostin first put forward the idea of switching to national currencies in international settlements about a decade ago, which means a move to the ruble shouldn't be considered a counter-sanction measure.
"I did not find understanding in this matter with the previous leadership of the Central Bank [10 years ago ] They believed that since the [US] dollar works, we shouldn't do anything, and settlements in rubles will just bring additional risks. Under the new leadership the position of the Central Bank changed. I think that soon we will achieve a major breakthrough," Kostin said.
Creating a national payment system and establishing a domestic rating agency are among other priorities for the bank, the VTB head added.
SWIFT action
The media has reported on the possibility of the US and EU widening sanctions to exclude Russia from the SWIFT global money transfer system.
Kostin said the move would become "a point of no return" and that any further dialogue would be impossible if SWIFT was cut off.
"If you look at Iran's experience, shutting down SWIFT only happens when all relations; political, economic, cultural, even diplomatic, break down," the VTB boss said.
"I don't know how [Western] banks could block SWIFT and then expect cooperation in the fight against terrorism and nuclear disarmament."
However, replacing SWIFT within Russia won't be difficult, Kostin said.
"We have a [similar] system at the Central Bank of Russia and others. The Central Bank has tested this system, and we can switch to it at any moment."
He said that domestic payments account for about 90 percent of VTB settlements and won't be affected. Across the entire Russian banking system the share of domestic payments is even higher, Kostin explained.
You can share this story on social media: