UK seeking to bar Russia from using SWIFT banking network – report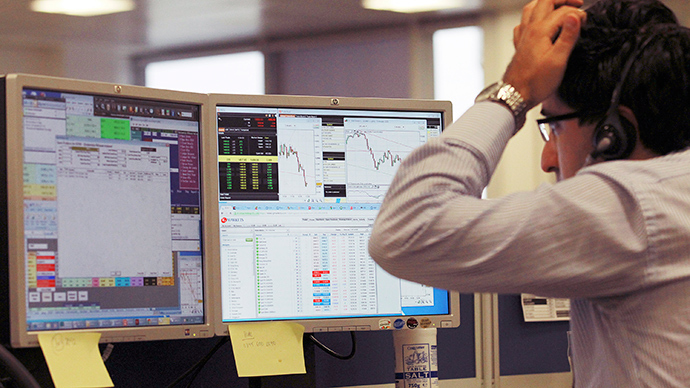 The British government will press other European nations at a meeting in Brussels on Saturday to block Russia from using the SWIFT banking network, Bloomberg reported, in what could be a dramatic expansion of sanctions.
However, according to Itar-Tass sources within the British government, the EU leaders are not planning to discuss banning Russia from using the SWIFT, while the British Prime Minister's office refused to comment on the issue.
The Society for Worldwide Interbank Financial Telecommunication, or SWIFT, is currently one of Russia's main connections to the international banking system.
Brussels-based SWIFT has to comply with EU decisions because it is incorporated under Belgium law.
The UK will put forward the proposal to bar Russia from using SWIFT at a meeting in Brussels Saturday, according to a government source, Bloomberg reports.
European leaders are due to meet to try and come up with a united response after NATO said Russian soldiers and military equipment crossed into Ukraine.
The UK reportedly wants the EU to bring sanctions into line with the stricter measures imposed on Russia by the US.
But analysts fear that this could mark a serious escalation in the sanctions war between the West and Russia.
"Blocking Russia from the SWIFT system would be a very serious escalation in sanctions against Russia and would most certainly result in equally tough retaliatory actions by Russia," said Chris Weafer, senior partner at Moscow-based consulting firm Macro Advisory, Bloomberg reported. "An exclusion from SWIFT would not block major trade deals but would cause problems in cross-border banking and that would disrupt trade flows."
The SWIFT system transmitted more than 21 million financial messages a day last month between more than 10,500 financial institutions and corporations in 215 countries.
Blocking Russia from using SWIFT would be disruptive in the short term, and in the longer term it may create more serious problems.
"There's no doubt that in the short term restricting Russian usage of SWIFT would be extremely disruptive to Russian financial and commercial activities," said Richard Reid, a research fellow for finance and regulation at the University of Dundee in Scotland. "However, it may carry a longer-term downside, namely the likelihood that large chunks of Russian international payments flows would move to much less well monitored and measured financial channels and thus be beyond sanctions at any future point."
The EU blocked Iran from using SWIFT in nuclear-related sanctions imposed on Tehran in March 2012.
The tit-for-tat sanctions between Moscow and Europe currently include an EU ban on doing business with certain players in Russia's financial sector, including all majority Russian-owned banks, trade restrictions on some Russian energy and defense firms, and asset freezes and travel bans on certain individuals.
In response, Russia has banned most agricultural products from all 28 member EU countries.
You can share this story on social media: