Sanctions & weaker oil prices could cost Russia 4% of GDP – official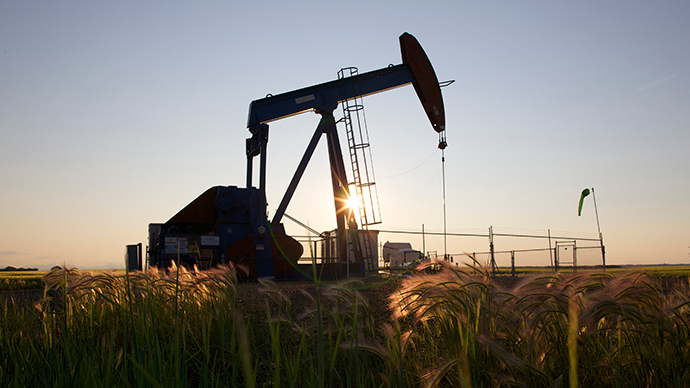 The geopolitical crisis in Ukraine could cut Russia's balance of payments by the equivalent of 2% of GDP, and lower oil prices could knock off another 2%, Maksim Oreshkin, head of Russia's Finance Ministry's strategic planning department, said.
Russia's Urals crude oil experienced a significant drop from its June price of above $110 per barrel to its current price of $93 per barrel, a reduction that Oreshkin believes, coupled with Ukraine-related economic problems, could sink Russia's balance of payments by a total of 4 percent.
Oreshkin explained that lower Urals crude prices reduce exports by $55 billion per year, the official said at the Fitch ratings agency conference on Thursday, Reuters reports.
The World Bank recently lowered their GDP growth estimate for Russia in 2014 to 0.5 percent, effectively equivalent to stagnation. In 2013, the economy expanded 1.1 percent to $2.1 trillion.
The sudden drop is structural, whereas in the past it was cyclical Oreshkin said. Now it has to do with a decline in demand and increase in oil production, in addition to Libya returning to the oil market.
"It is unlikely that we will see a sharp drop in prices, but we are unlikely to see a sharp rise. Most likely, we will see stabilization in the area of $90 per barrel," he said.
The Finance Ministry has projected a baseline Urals crude price of $104 in 2014, and $100 in 2015-17, but as noted by Economic Development Minister Aleksey Ulyukaev, there is a risk of price change, in the case of turmoil in the Middle East as well as a global economic turndown, which will lower consumer demand.
Oreshkin said that Russia could be being too soft on monetary policy. The government has planned on $80 per barrel prices as a cut-off when drafting the budget.
According to Oreshkin, the economy "didn't even notice any shocks."
"When the Economic Development Ministry released a forecast of $100 per barrel, we said then that we see the risks that oil will cost $ 90-95. It fell in this range, however. When it comes to conservative projections, the use of the lower level of this range would be a conservative approach," Oreshkin said.
Russia, the world's largest energy exporter, relies on oil and gas exports for 50 percent of its federal budget, as well as 70 percent of the country's total exports.
Urals crude, Russia's key export blend, hails from the Ural mountain and Volga regions, and is usually priced slightly below Brent.
Sanctions also threaten Russia's oil future.
The CEO of Russia's second-largest oil company, Lukoil, said that he expects sanctions to affect 20 percent of Russia's total oil output – or about 100 million tons, The Moscow Times reported.
Former Finance Minister Alexei Kudrin has warned that sanctions will cost Russia 1 percent of total GDP, which could send the economy into a recession, and lead to a 3-4 percent economic drop.
In the worst scenario, if Russia is cut off from the SWIFT international banking payment system, Kudrin predicts a 5 percent drop in GDP.
You can share this story on social media: