​Russia to protect sanctioned companies - Medvedev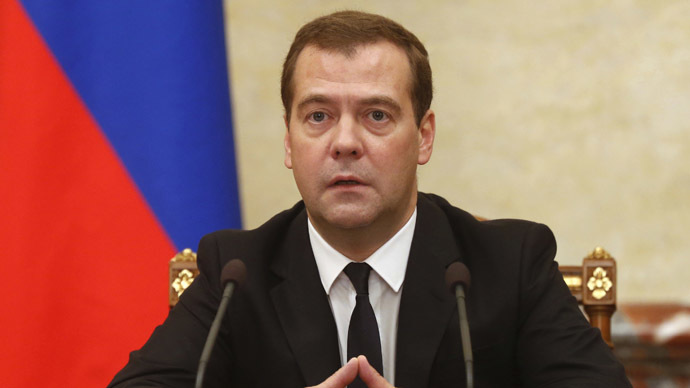 Authorities have supported and will continue to support all Russian companies – both state and private - hit by Western sanctions regardless of the reasons why they were targeted, Russia's prime minister has said.
"It is the government's responsibility - to protect Russian businesses should they face unfair and unlawful actions by foreign states or foreign companies," PM Dmitry Medvedev said in a Tuesday meeting with the chief executive and co-owner of Novatek Leonid Mikhelson.
"This is definitely a violation of international law, not based on anything," the prime minister added.
Novatek is the largest independent natural gas producer in Russia. In July, the United States imposed sanctions against the company and its other co-owner, Gennady Timchenko. Currently Novatek is leading the Yamal-LNG project which is estimated to cost $27 billion.
On Tuesday the prime minister said Moscow will "respond asymmetrically" should the EU impose a fresh round of sanctions, warning that Russia may shut its air corridors to Western airlines.
After sanctions hit Aeroflot's low-cost subsidiary Dobrolet in late July, Medvedev discussed with ministers the possibility of limiting, of even completely blocking, European flights to Asia that overfly Russia.
On Monday a package of further restrictive measures against Russia was adopted by the European Council deepening the targeted measures of 31 July. The council did not specify when the new sanctions will be applied, only saying it "will take place in the next few days," leaving time "for an assessment of the implementation of the ceasefire agreement [in Ukraine]."
Under the fresh round of sanctions, the EU will ban Russia's three main oil companies- Rosneft, Gazprom Neft, and Transneft - from raising long-term (longer than 30 days) debt on European capital markets.
You can share this story on social media: