​Russia to lift controls on Mongolian meat exports – Putin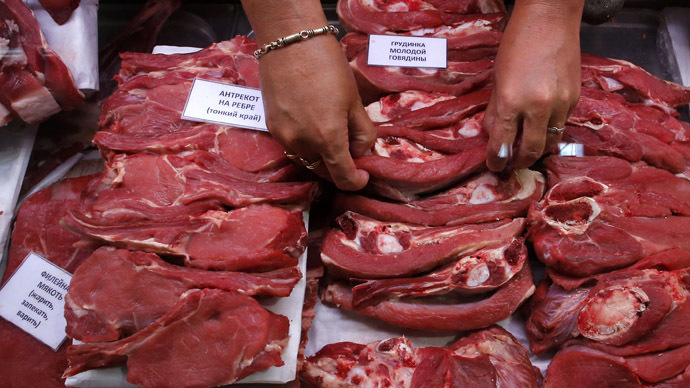 Russia will lift restrictions on the import of meat products from Mongolia, President Vladimir Putin said on Wednesday following talks with Mongolian President Tsakhiagiin Elbegdorj.
"We will certainly make steps towards our Mongolian friends and the decisions will be taken by the Russian Government in the near future", RIA Novosti quoted Putin as saying after the meeting in the Mongolian capital of Ulaanbaatar.
Putin said that Mongolia has a big opportunity to significantly increase the supply of meat products to the Russian market given compliance with Russian food safety regulations.
In the last decade Russia imposed restrictions on the import of livestock from Mongolia due to several outbreaks of foot-and-mouth disease (FMD).
In August, in retaliation for Western sanctions against Russia, Moscow imposed a one-year food embargo against the countries that targeted it. Among the most hit by the ban was Germany, which supplied 750,000 tons of pork annually, worth over €1 billion ($1.31 billion).
The Canadian meat industry was also hit hard, with pork worth $500 million left without a market in Russia, while Australian beef exports lost $147.4 million.
Also on Wednesday state-owned Russian Railways and Mongolia's Ministry of Road, Transportation, Construction and Urban Development signed an agreement on the modernization of the Ulaanbaatar Railway. The project is aimed at boosting exports and transit of goods and at improving the investment climate in Mongolia – which is experiencing a major mining boom.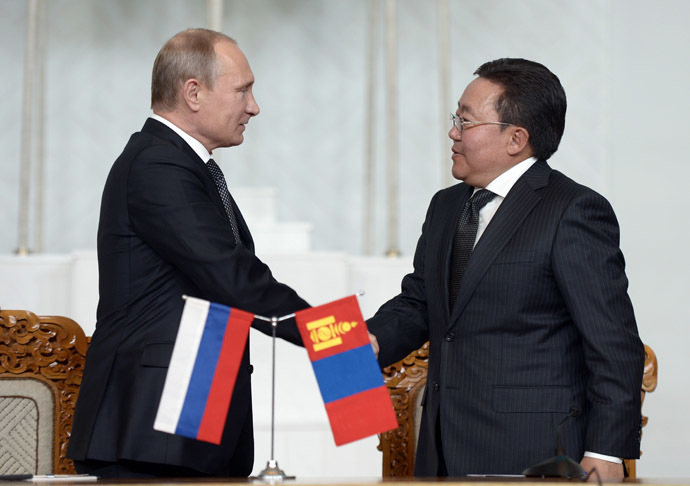 Russia and Mongolia are also discussing the possibility of signing an agreement on railway transit to China, Elbegdorj said.
"We agreed to end the work on the modernization of the Ulaanbaatar Railway by 2020. We also discussed the signing of an agreement on transit between Mongolia, Russia and China," ITAR-TASS quotes Elbegdorj after talks with Putin.
Russia and Mongolia have also signed an agreement on visa-free travel which was suspended by Mongolia in 1995. Under the agreement, nationals of both countries can enjoy a visa-free stay in Russia or Mongolia for up to 30 days.
Mongolia also proposed Russia increase annual bilateral trade to $10 billion by 2020.
Annual trade between Russia and Mongolia had recently been on the decline, dropping by 16 percent to $1.6 billion in 2013.
President Putin also said that Russia's biggest oil company Rosneft plans further expansion in Mongolia.
"Rosneft covers most of the country's demand for oil products, supplies the Genghis Khan International Airport in Ulaanbaatar and has big plans to expand its presence in the Mongolian market."
Elbegdorj briefed Putin on the Mongolian initiative to construct the so called "Steppe Route" pipeline that would transit natural gas from Russia to China.
In total 15 agreements on cooperation were signed, including Russia providing military and technical assistance to Mongolia.
You can share this story on social media: