​Lithuania asks EU for $60mn compensation over Russian embargo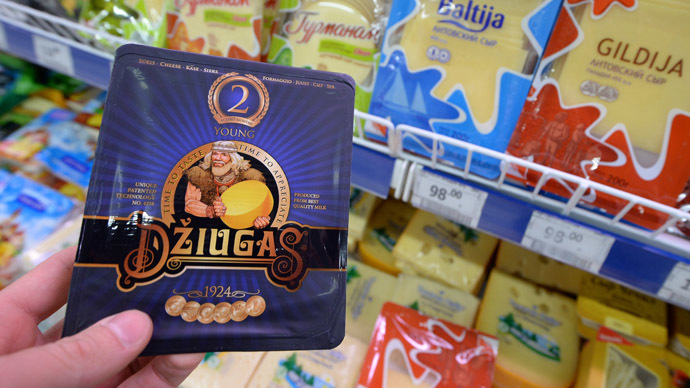 Lithuania has asked the European Commission to allocate €46 million ($60 million) as compensation for Russian food embargo losses. Slovakia has also asked the EU to lift some sanctions against Russia to partially allow exports.
Vilnius is expecting to receive at least part of the requested compensation, as Brussels sees Lithuania as one of the countries most affected by the Russian sanctions, Lithuania's Minister of Agriculture Virginija Baltraitiene told LRT radio.
She stressed that money is needed to pay compensations to farmers who have seen the price of their produce collapse.
"There is no state in the European Union where the prices fell as heavy as in Lithuania. We believe that they will understand our position and we will get some funding," Baltraitiene concluded.
Meanwhile, Slovakia has voiced opposition to the sanctions imposed against Russia by the European Union, saying they have had a destructive influence on the national economy, RIA Novosti cited Prime Minister Robert Fico as saying.
"We have addressed the EU, asking them to remove some clauses from the sanctions proposal. We want a number of products included in the list to be exempt from sanctions, so that we can continue exporting them to Russia," Fico said during a news conference after a special meeting dedicated to the discussion of new EU sanctions against Russia.
The ministers who attended the meeting spoke against the proposed export ban on goods that can have both military and civilian use as some Slovak machine tool makers may go bankrupt if the sanctions come into effect.
On Wednesday, Estonia's Minister of Agriculture Ivari Padar announced the Russian food import restrictions had hit producers of milk and pork and the fisheries industry the hardest.
The minister promised to start paying special grants of about $3.34 million to pig farmers by the end of the year.
According to a detailed report presented to European Commissioners in Brussels this week, Russia's decision to impose a food embargo in response to Western sanctions may cost the European Union €5 billion ($6.6 billion) a year.
In 2013, total EU food exports to Russia were worth €11.8 billion ($15.5 billion), and the products covered by the Russian ban represented €5.1 billion ($6.7 billion).