​EU sanctions like 'shooting oneself in the foot' - Hungary PM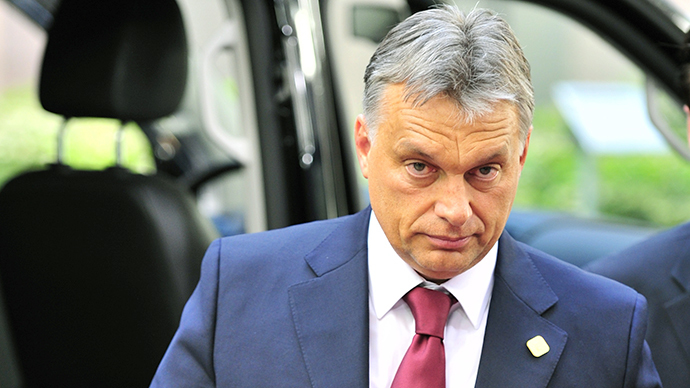 Hungarian Prime Minister Viktor Orban has urged a rethink of the European Union's sanctions policy toward Russia, saying the measures are like "shooting oneself in the foot."
"The sanctions policy pursued by the West, that is, ourselves, a necessary consequence of which, has been what the Russians are doing, causes more harm to us than to Russia," Reuters quoted Orban as saying on the radio, he added "in politics, this is called shooting oneself in the foot."
Russia is Hungary's largest trade partner outside of the EU, with exports worth $3.4 billion in 2013. Also it is highly dependent on Russian energy. Earlier this year Hungary agreed a $13 billion deal with Russian power company Rosatom to expand the country's only nuclear power plant.
"The EU should not only compensate producers somehow, be they Polish, Slovak, Hungarian or Greek, who now have to suffer losses, but the entire sanctions policy should be reconsidered," the Hungarian Prime Minister said, saying he is already looking for support to force through changes.
Despite the negative sentiment on Tuesday, Hungary's Agriculture Ministry stressed the Russian embargo won't significantly affect the Hungarian economy as the banned products account for less than a third of Hungarian agricultural exports to Russia, being only one percent of total national farming exports.
Despite weak growth in the eastern countries of the EU, Hungary, together with Slovakia and Bulgaria have shown better than expected figures, with 0.8 percent quarterly expansion according to Thursday's preliminary GDP estimates.
On Thursday, Matteo Salvini, the leader of Italy's Northern League party, called on Brussels to immediately repeal the sanctions against Russia.
"Only fools, Brussels and Rome, could decide to impose economic sanctions against Russia, which now sends us back tons of Italian agricultural products worth more than €1 billion," Salvini wrote on his Facebook page "Who will pay our farmers? Renzi? Merkel?"
The politician claims that in order to please US President Barack Obama and German Chancellor Angela Merkel, the Italian Prime Minister Matteo Renzi has "ruined the economy" of the country.
At a meeting in Sochi on Friday with Russian President Vladimir Putin, his Finnish counterpart, Sauli Niinisto, admitted that Western sanctions against Moscow and the Russian food ban had made an impact on economic relations between the two countries. Niinisto called for an urgent resolution to the Ukraine crisis.
Finland is one of the EU states hardest hit by the embargo. Russian-Finnish trade fell by 8 percent to $8.3 billion in the first half of 2014, according to a Kremlin fact sheet.
You can share this story on social media: