Coke pulls ads from 4 Russian TV channels, on 'purely economic' basis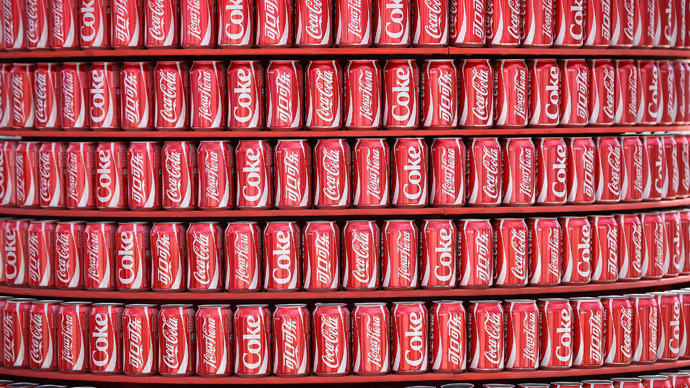 American beverage giant Coca-Cola says its decision to cancel advertising on four Russian state television channels is unrelated to sanctions.
Coca-Cola has pulled adverts from Ren-TV, Channel Five, Home, and Star, three out of the four are connected to Bank Rossiya, which the US sanctioned in March over Ukraine
The company has confirmed it will shift its consumer marketing efforts to other stations.
"These four channels are the least suited to the target audience for the brand Coca-Cola, so the advertiser has decided to reallocate budgets," Yuri Borisov, an associate at MediaVest, told Kommersant.
"The Coca-Cola Company insists the decision is purely economic in nature, unrelated to the sanctions," Russian business daily Kommersant reported, citing an unnamed source.
Coca-Cola is a large advertiser in Russia and spends about $70 million per year; major competitor PepsiCo spends $193 million a year by comparison.
Russian lawmakers are moving to do away with ads on state television, since people have in theory already paid for the right to the content.
#CocaCola stops advertising on 4 Russian federal channels unrelatedly to #sanctionshttp://t.co/mYXbeUdALc

— RIA Novosti (@ria_novosti) August 6, 2014
Coke saw a slight drop in second quarter Russian sales, which is said to have played a role in the decision.
The second quarter results report for the distributor in Russia Coca-Cola Hellenic Bottling showed the country was a key growth driver.
Russia "demonstrated solid growth dynamics" and has experienced 10 consecutive quarters of volume increase. In the second quarter, the company's brand was boosted by 8 percent due to its sponsorship of the 2014 Sochi Olympics.
However, Russia's weak ruble has caused the beverage company a big loss. In Russia and Ukraine, foreign exchange volatility is expected to reach €20-30 million by the end of the year.
Coca-Cola Hellenic Bottling started operations in Russia in 2001 and serves 141 million customers, according to the company's website. It sees the Russian non-alcoholic beverage market continuing its upward expansion, and just recently opened a new plant outside of Moscow with the capacity to produce 3 million liters of ready-to-drink product each day.
Coca-Cola Hellenic is one of the largest producers of non-alcoholic beverages in Russia, ranging from the Rich juice brand to licensed Nestea products.
The company operates bottling facilities in Moscow, St. Petersburg, Orel, Nizhny Novgorod, Samara, Volga, Yekaterinburg, Rostov, Novosibirsk, Krasnoyarsk and Vladivostok, and has over 70 distribution centers in Russia.
You can share this story on social media: