BNP Paribas suffers $5.8bn loss after record US fine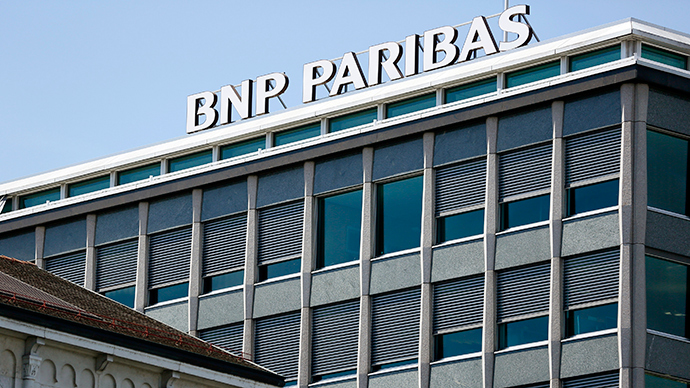 France's biggest bank reported a heavy loss in the second quarter after accepting a nearly $9 billion fine for violating US sanctions against Iran, Cuba, and other "blacklisted" countries.
BNP Paribas reported a $5.79 billion (€4.32 billion) net loss over the three month period through June, compared to a €1.77 billion net profit reported last year.
"The group has learned lessons from these past events and is implementing a major reinforcement of its internal control," Chief Executive Jean-Laurent Bonnafe said in a statement.
The French bank set aside $7.70 billion (€5.75 billion) to cover its $8.97 billion settlement with US authorities. The fine has cut into second quarter results, and took a big bite out BNP's entire 2013 pre-tax income of $11.2 billion.
READ MORE: BNP Paribas agrees to record $8.8bn settlement for US sanctions violation
The BNP Paribas Board of Directors met on Wednesday and announced the results early Thursday.
Besides the fine, France's largest-listed lender is positive about its outlook. It reported it has enough cash set aside to bounce back from any future losses and that revenue, even though it took a dip, was strong.
"Excluding these items, the group's performance was very good this quarter," the company's statement said.
The group's second quarter revenue totaled $12.8 billion (€9.57 billion), which was a 2.3 percent drop from the €9.79 billion in the same quarter last year.
Immediately available liquid reserves stand at nearly $327 billion (€244 billion) as of June 30, down from €264 billion in the first quarter.
In late June, the bank pled guilty to two criminal charges of violating US sanctions, and will be banned from dollar-based transactions for one year, starting January 1, 2015. BNP Paribas agreed to the fine to avoid going to court.
The record-high fine was the biggest US penalty imposed on a foreign institution.