BNP Paribas agrees to record $8.8bn settlement for US sanctions violations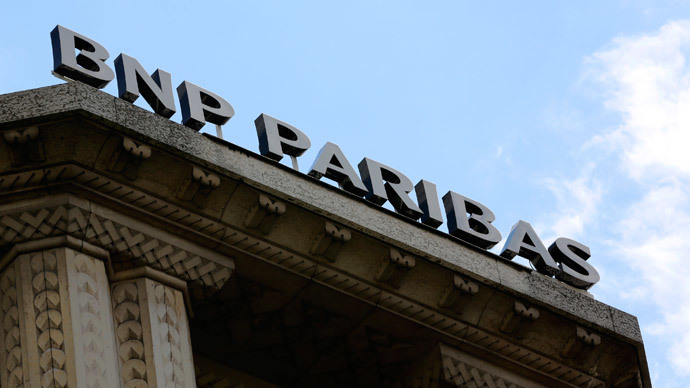 French banking giant BNP Paribas has agreed to plead guilty to two criminal charges of violating US sanctions, and will pay a record-breaking $8.8 billion settlement.
Prosecutors allege BNP conducted "long-term, multi-jurisdictional conspiracy." A lawyer representing the bank appeared in New York state court on Monday to answer for both charges, reports Reuters.
The settlement represents the largest criminal penalty in US history, and will practically wipe out BNP's entire 2013 pre-tax income of $11.2 billion, reports the BBC.
The size of the looming fine had been decried by the French government. The country's foreign minister, Laurent Fabius, previously said the amount would be "an extremely serious problem," an "unfair and unilateral decision" and "not reasonable."
"BNP went to elaborate lengths to conceal prohibited transactions, cover its tracks, and deceive US authorities. These actions represent a serious breach of US law," US attorney general Eric Holder said in a statement.
The French financial watchdog ACPR released a statement on Monday regarding the agreement with US prosecutors.
"ACPR, as the home supervisor of BNP Paribas, has examined the situation of BNP Paribas and has concluded that BNP Paribas Group has a solid solvency and liquidity position, which will allow it to absorb the anticipated consequences of these sanctions."
The bank had announced in April that it had set aside $1.1 billion to cover the cost of the expected US fine, but warned that the final outcome "could be far in excess of the amount of the provision," suggesting that it was not caught off guard by the settlement.
BNP's settlement now surpasses oil giant BP's 2012 $4 billion agreement with the US Department of Justice to resolve criminal charges related to the massive 2010 Deepwater Horizon well blowout and resulting oil spill.
New York state regulators said that the settlement would result in the termination of some of the bank's senior executives, as well as restrict US dollar clearing operations. Some 30 employees will leave the bank as a result of the probe, including several who have left already.
The agreement will also lay out a specific compliance program to keep the bank's operations in line with the American sanctions regime.
The latest settlement highlights a string of aggressive and high profile actions by the US against foreign banks. However, BNP's fine dwarfs the $1.9 billion penalty imposed on HSBC in 2012 under similar charges, as well as the $2.6 billion May fine on Credit Suisse stemming from the bank's involvement in tax evasion claims.
The severity of BNP's fine is related to the bank's lack of cooperation, and allegations that it continued to process transactions that violated US law even after the probe was initiated.
You can share this story on social media: