Lukoil offloads 240 Ukraine gas stations to Austrian buyer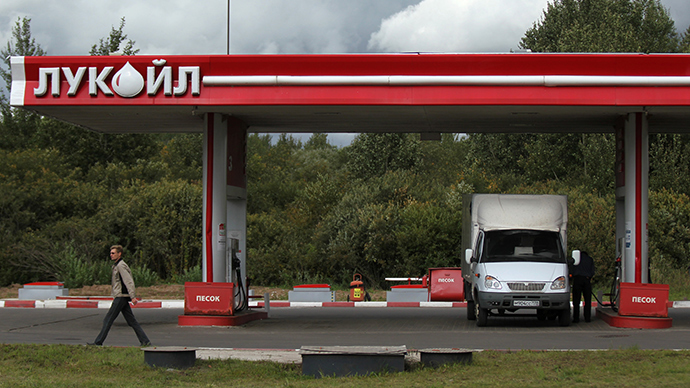 Russia's second-largest oil producer Lukoil will sell 100 percent of its Lukoil-Ukraine CFI operations to Austria's AMIC Energy Management GmbH (AMIC). The sale follows a blockade and threats by Ukrainian nationalists.
"The sale of the filling-station network and petroleum tank farms in Ukraine to AMIC will help Lukoil optimize its asset structure and distribution-network management system in Eastern Europe, to which we attach great importance seeking to enhance the efficiency of our business in terms of petroleum-product sales," the company's vice-president, Vadim Vorobyov, said in a press statement on Thursday.
Lukoil, Russia's largest independent oil company, hasn't released any financial details of the sale, which was initiated by the Austrian side. Both parties are preparing to sign a sale-and-purchase contract.
One of the top five leaders in the Ukraine fuel markets, Lukoil will transfer 240 gas service stations and six industrial petroleum storage facilities to AMIC, which hopes to boost its presence in the Central and Eastern European markets.
"I would like to express my sincere gratitude to our partners for their willingness to positively consider our offer to purchase the retail network," Dr. Gunter Maier, Managing Director of AMIC, said in the statement.
On Tuesday, members of Ukraine's ultranationalist Right Sector blocked off several Lukoil gas stations in Ivano-Frankovsk, a city in western Ukraine. The activists seized three of the six stations, demanding 100 free liters of gasoline per day to satisfy the demands of the Ukrainian Army, a representative of the OSCE reported.
Neither Ukraine's Interior Ministry or Ukrainian Security Council intervened in the affair, saying the activists had a constitutional right to express their opinions.
The bandits reportedly threatened gas station employees that they would return with more attacks with the end goal of completely ousting the company from Ukraine.
Lukoil owns 13 gas stations, as well as one oil storage facility, in Crimea.
Russia has the largest petroleum industry worldwide. Russia's other oil giant, Rosneft, has 41 gas stations in Ukraine, and CEO Igor Sechin has said his company plans to "defend assets" in the country.