European Union agrees on Russian sectoral sanctions – top EU officials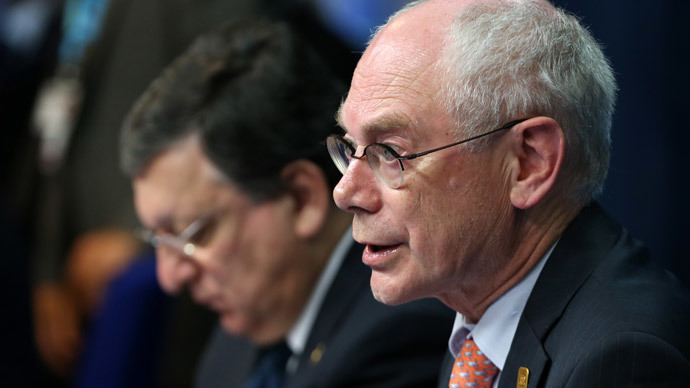 The EU has agreed on a new package of sanctions against Russia targeting the military, oil and finance sectors, according to a joint statement by the presidents of the EU Commission and Council.
All 28 member states agreed on the broader economic sanctions, which "will limit access to EU capital markets for Russian State-owned financial institutions, impose anembargo on trade in arms, establish an export ban for dual use goods for military end users, andcurtail Russian access to sensitive technologies particularly in the field of the oil sector," the statement says.
The new restrictions will also include an expanded list of people and entities that the EU considers are responsible for Russia's policy in Ukraine or close to the ones responsible.
In addition, the limitations imply "the suspension of EIB and EBRD financing, the restriction of investment and trade with Crimea and Sevastopol and the reassessment of Russia-EU bilateral cooperation with a view to reducing the level of cooperation."
The restrictions will exclude the vital gas sector, on which Europe is heavily dependent. The sanctions are to be finalized on Wednesday.
The EU officials said that the new, broader economic sanctions are expected to last one year, but will be reviewed in three months, on October 31.
Fresh sanctions come amid the EU's growing frustration with Russia's alleged interference in eastern Ukraine, and is being fanned by the tragedy of the shooting down of MH17, which killed hundreds of EU citizens.
The tougher stance goes along with American foreign policy after the US issued a fresh round of sanctions against Russia on July 16.
Many worry that sanctions, which in the past haven't proved a practical measure in punishing countries, will have a boomerang effect, and end up hurting Western markets more than Russia itself, particularly financial centers like London.
Worldwide, Russia ranks the fifth largest economy by purchasing power and is one of the major trade partners of the European Union.
The sanctions "should have a strong impact on Russia's economy while keeping a moderate effect on EU economies," European Council President Herman Van Rompuy said last week, adding that they would target only future deals. That means the French contract with Russia regarding the construction and shipment of the Mistral helicopter carrier warships signed in 2011 will not be canceled under the new restrictions.
You can share this story on social media: