EU adds 15 people, 18 firms to sanctions list over Ukraine crisis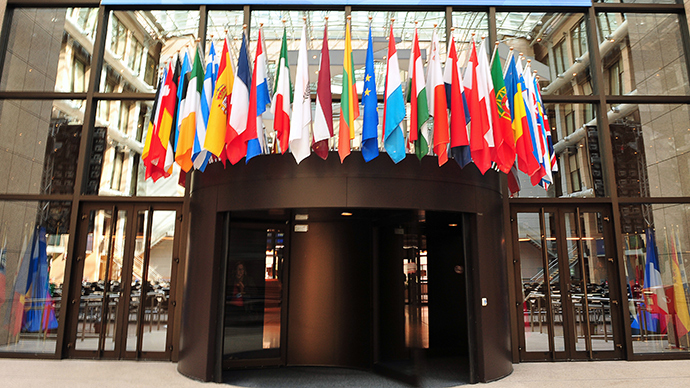 The European Commission added new names and companies to its blacklist on Thursday over the Ukrainian crisis, according to diplomats. However, 'stage three' economic sanctions against Russia have again fallen flat.
The diplomats who spoke to Reuters did not specify the names of the people and companies on the extended sanctions list, and said they would resume discussions on Friday morning.
It's a further delay of sectoral, or economic, sanctions against Russia after EU foreign policy chief Catherine Ashton announcedon Tuesday the EU would outline tougher sanctions to hit Moscow on Thursday,if it failed to comply with the Malaysian Air Flight 17 crash investigation.
The new proposed sanctions included a ban on Russian capital markets, sanctions against Russia's weapons industry and 'sensitive technologies', which would include Russia's critical energy sector, the Financial Times (FT) reports.
EU officials are considering sanctions that would bar Russia from using European lending institutions and, conversely, ban Europeans from buying new debt from Russia's largest banks, many of which are state-controlled.
"Restricting access to capital markets for Russian state-owned financial institutions would increase their cost of raising funds and constrain their ability to finance the Russian economy," a 10-page memo presented to the European Commission, said, as reported by Bloomberg News. The memo was sent to all 28 EU ambassadors prior to Thursday's meeting.
If adopted, EU sanctions would apply to all Russian banks that are more than 50 percent state-owned. Sberbank, VTB, the country's two largest lenders, as well as Vnesheconombank, and Gazprombank (already sanctioned by the US) would fall into this category.
"It would also foster a climate of market uncertainty that is likely to affect the business environment in Russia and accelerate capital outflows," the document said.
According to the memo, €7.5 billion of €15.8 billion of bonds issued by Russian public financial institutions were sourced from EU markets, FT says.
Blocking European clients from Russian markets would exacerbate capital flows out of the country, which in 2014, have already reached $80 billion, and could prove to be a crippling drain on the economy, which isn't expected to grow more than 1 percent this year.
The US has been pushing the EU to step up sanctions against Russia, but European countries have much more to losein cutting ties with Russia than their Western allies.
Europe's biggest economic heavyweights- Germany, France, and Italy- have significant investment and trade ties with Russia. For example, one in every four foreign German companies operates in Russia.
About a quarter of European countries completely rely on Russia for gas or oil supplies.
Many also doubt the practicality of economic sanctions, which so far have had little effect on the Russian economy, and haven't changed the course of events in Ukraine.
You can share this story on social media: