​US may end controversial five-year 'easy money' program in October
Published time: 10 Jul, 2014 13:35
Edited time: 10 Jul, 2014 13:46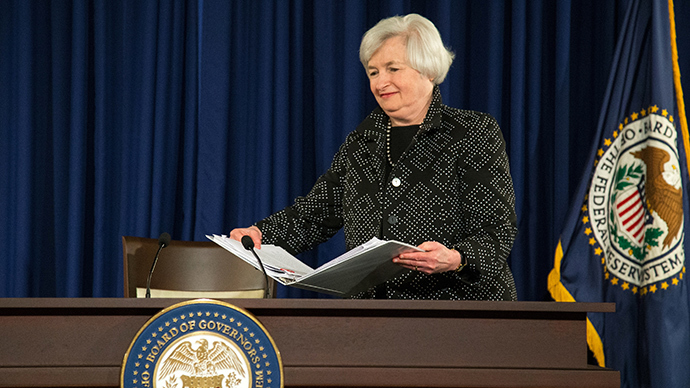 The US Federal Reserve said it could end the controversial five-year-old 'quantitative easing' program that has pumped about $4 trillion into the US economy as early as October, if there are no signs the economy is still in trouble.
"If the economy progresses about as the [Fed] expects, warranting reductions in the pace of purchases at each upcoming meeting, this final reduction would occur following the October meeting," according to Wednesdaypress releaseof June 17-18 Minutes of the Federal Open Market Committee.
Monthly bond purchases are already cut from a peak of $85 billion to $35 billion following the results of the June meeting.
The Fed plans to successively reduce purchases at its next three policy meetings, cutting them in October from $15 billion to zero.
After five years of recession the US economy started to show positive results, indicating recovery.
Last month, the unemployment rate had fallen to 6.1 percent, the lowest since September 2008, according to US Bureau of Labor Statistics. A level that Fed officials didn't expect to see before the end of the year was led by 288,000 extra jobs. June resumed a five month 200,000-plus job gains chain which is an almost 15-year growth record.
After GDP shrank by 2.9% from January to March, mostly due to a brutal winter, the US economy is expected to stabilize and grow at a healthy 3 percent for the rest of the year.
Meanwhile the US inflation rate of 2.1 percent is also approaching the Fed's 2 percent target.
Since January the Federal Open Markets Committee (FOMC) has been reducing the volume of Treasury bond and mortgage-backed securities purchases, known as quantitative easing (QE), but did not set an end date for the scheme.
The policy also known as 'easy money' was mostly used to buy debt and junk financial instruments from the market like Treasury bonds and mortgage-backed assets to provide the financial system with plentiful cheap cash. It was also aimed to stimulate investors to back stocks or corporate debt and to keep long-term interest rates down in order to boost the economy.
5 simple facts about US 'easy money'
Since being introduced in 2009 during the financial crisis, QE became the largest financial aid scheme in history, as it provided the US financial markets with the estimated $4 trillion.
Critics of 'easy money' in Congress and elsewhere have warned that the program will lead to another financial bubble or excessive inflation.
Potential Republican presidential candidate Senator Rand Paul is a long-time critic of QE, and has worried that the recovery of the US economy is "illusory", says the Guardian.
Andrew Hussar a former manager of the Fed's mortgage-backed security purchase program and a senior fellow at Rutgers Business School said in the Wall Street Journal that QE had helped Wall Street far more than Main Street.
'Easy money' a relief for financiers, burden for most Americans - Former Fed trader