China's monthlong block of Google hits businesses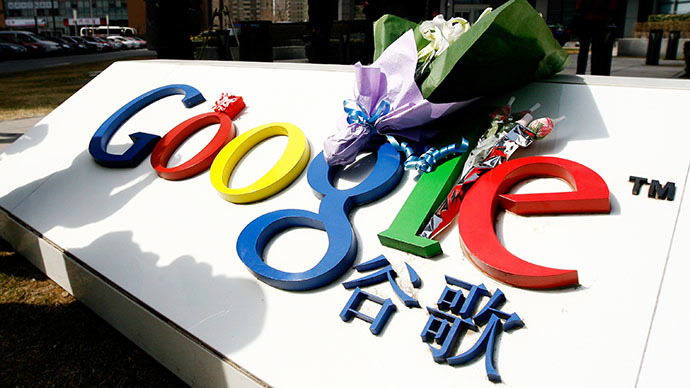 Chinese business says it's being increasingly hit by a monthlong government clampdown on Google, and is realizing how reliant it is on the service. The controls are part of Chinese government attempts to reduce foreign influence it considers pernicious.
Since 2009 when Google stopped censoring searches, the service has been subjected to a cycle of impediments from Chinese authorities. The last restriction of such scale was in November and lasted just a few days during the Communist Party's Third Plenum, the Financial Times (FT) reports.
The so-called Great Firewall, a censorship and surveillance project operated by the Chinese Ministry of Public Security, was designed to block subversive content on the national internet and has been implemented against Facebook, Twitter, and Google content.
Taxi cab operators and smartphone online gamblers as well as real estate companies all felt the impact of the restrictions on their activities.
"Our global business runs on Gmail," FT quotes Francis Bea of PapayaMobile, a Chinese mobile technology company. "It can be hugely frustrating."
A lion's share of PapayaMobile revenue comes from software selling through the Google Play online marketplace. In particular the Slots Fever game developed by the Beijing-based company was named the Google App store's 20th highest grossing game in 2013.
"If there are any disruptions with Google products, it can slow down productivity especially for a company that has international reach," said Mr Bea.
Besides the interference to online shopping, Google Maps are also subject to the restrictions.
Uber taxi, an $18 billion transport company, faced difficulties when routes failed to load on its app which is based on Google Maps, according to Financial Times tests.
However Uber said it "has not experienced or received negative user feedback on this matter."
In order to avoid the access problem, many users use a virtual private network connection.
"We've checked extensively and there are no problems on our end," a Google spokesperson said.
Property websites such as Juwai.com and Sina.com also faced difficulties with showing the location of real estate such as St. Tropez villas or Pacific Heights mansions. Neither Google Maps, nor Google Street View which are part of both websites could provide customers with the location of choice.
"Sometimes they load and sometimes they don't," said Juwai.
Meanwhile Sina has already switched some of the listings to maps on Autonavi, a Chinese mapping service owned by e-commerce giant Alibaba.
You can share this story on social media: